Denver is pot city this weekend, with the High Times Cannabis Cup, the 4/20 rally downtown, and dozens of related musical and cultural events.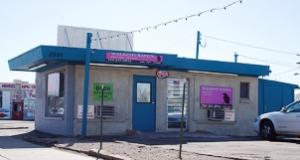 On East Colfax Avenue this morning, people wearing their Sunday attire for Easter services are outnumbered by people wearing tie-dyes, 4/20 t-shirts, and pot leaf caps heading down to today's session of the 4/20 rally (it went on yesterday as well, with thousands in attendance.
The Cannabis Cup is massive! Organizers estimate more than 30,000 people attending each day, and for blocks around the expo hall, there are masses of stoned humanity wandering to and fro. Inside, the commodification of marijuana continues at a dizzying pace, with hundreds of vendors and exhibitors hawking their wares.
I visited the Walking Raven retail outlet yesterday and interviewed the owner. Look for some of that interview to appear in a feature article later this week on the state of play in Colorado.
I also made my first legal marijuana purchase in the United States. It was a proprietary 30% THC strain called Hong Kong Diesel. It wasn't cheap, and prices are something I want to address in that coming feature.
The parking lot at Walking Raven was notable for the plethora of out of state license plates. People are coming from all over the country to take part in and celebrate the new reality of legal weed.
I'm off to the 4/20 rally in a bit; may post something later tonight. Then I basically disappear for a couple of days as I head off across Colorado, Utah, and Nevada on my way to Northern California. Look for regular Chronicl action to recommence by Wednesday.
Looking for the easiest way to join the anti-drug war movement?
You've found it
!