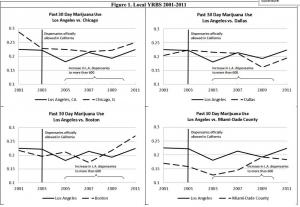 A New York Times article this week,
Few Problems With Cannabis for California
, reports that
a pending study
in the Journal of Policy Analysis and Management by Mark Anderson and Daniel Reese has found increased marijuana use to be a substitute for alcohol use in California:
Based on existing empirical evidence, we expect that the legalization of recreational marijuana in Colorado and Washington will lead to increased marijuana consumption coupled with decreased alcohol consumption. As a consequence, these states will experience a reduction in the social harms resulting from alcohol use.
The article discusses alcohol's relationship to traffic fatalities and violent crime, including domestic abuse, predicting that marijuana legalization will reduce those problems, with youth use of marijuana remaining stable.
The substitution question has been raised repeatedly at academic fora on marijuana legalization since the Colorado and Washington initiatives passed last year. In our movement we have tended to assume that they are substitutes, but not all academics are sure. At a one-day conference held by the RAND Drug Policy Research Center, at their Washington office, one of the guest presenters said the evidence they've seen "clearly" indicates that marijuana is a complement for alcohol use, e.g. increased availability of marijuana could have the effect of increasing alcohol use and is at least correlated with it. Another one of the guest presenters immediate chimed in to say that the evidence his team has seen "clearly" indicates that marijuana and alcohol are substitutes.
DPRC co-director Beau Kilmer often notes that a change in the amount of alcohol use, up or down, could dwarf any increase in marijuana use in terms of its public health ramifications, because alcohol is more harmful than marijuana. But he's cited evidence pointing in both directions, sometimes in different directions for different groups of people. Hopefully the JPAM study's findings will be born out by further research.
Looking for the easiest way to join the anti-drug war movement?
You've found it
!