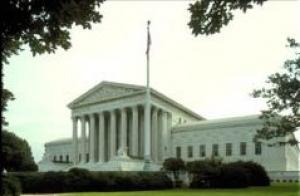 There was a big Supreme Court ruling today. In
Alleyne v. United States
, a 5-4 majority extended an important sentencing reform that had begun with in the 2000 case
Apprendi v. New Jersey
.
According to Mike Gottlieb on SCOTUSblog:
It has been settled since... Apprendi v. New Jersey that any facts which increase a criminal defendant's maximum possible sentence... must be proved to a jury beyond a reasonable doubt... [I]f a statute makes it illegal to sell a drug and authorizes a ten-year maximum sentence for such an offense, but provides for a twenty-year maximum sentence for a sale of a larger quantity of the same drug, the jury rather than the judge must make a finding about the quantity before the twenty-year maximum may be imposed.
In 2002, the Court decided... that Apprendi did not apply to facts that would increase a defendant's mandatory minimum sentence, and therefore that a judge could constitutionally decide to apply a mandatory minimum sentence on the basis of facts not proven to a jury.
But not anymore. According to Doug Berman's Sentencing Law and Policy blog:
[H]ere is the money quote from the majority opinion: "Because there is no basis in principle or logic to distinguish facts that raise the maximum from those that increase the minimum, Harris was inconsistent with Apprendi. It is, accordingly, overruled."
It's hard to tell how things will play out. Apprendi had a larger long-term effect by leading to another ruling, Booker, in which sentencing guideline systems became advisory rather than obligatory -- judges can now sentence below the guidelines that Congress and the Sentencing Commission established, if they offer good reasons, though prosecutors can appeal it. That's an enormous change to the guidelines half of federal sentencing, though underused by (one might say overly-deferential) judges. Now it applies to mandatory minimums as well.
Berman also offers some initial reactions as to what it could mean here. He's not predicting an overturning of mandatory minimum sentencing in the way mandatory guidelines were undone, but significant changes are possible -- changes that could help a lot of people.
Also of interest -- in Apprendi it was Justice Scalia who was pivotal for the majority; today it was Justice Thomas.
Looking for the easiest way to join the anti-drug war movement?
You've found it
!