Like any other businessmen seeking to differentiate their product from similar competitors, heroin dealers come up with brand names, too. Among the latest is this entry from Massachusetts: "Obamacare"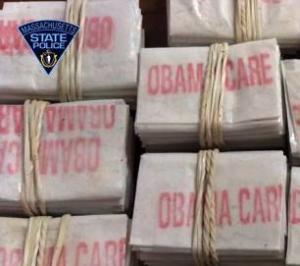 This photo comes courtesy of the Massachusetts State Patrol, whose troopers seized 1,250 packets of heroin stamped "Obamacare" or "Kurt Cobain" during
a Friday morning traffic stop
.
Branding heroin is nothing new; legendary New York City heroin dealer Frank Lucas had his "Blue Magic" back in the 1970s. In recent years, the trend has continued, with names such as "Bugs Bunny," "Buddha," "Bin Laden," and "LeBron James" all making appearances, some for more obvious reasons than others.
"Kurt Cobain" I can understand, from a heroin marketer's viewpoint. This shit will blow your brains out.
But I'm not sure what message dealers are trying to convey with the "Obamacare" brand. Is this stuff gonna kill you as dead as socialized medicine? Or is it gonna bliss you out like knowing you have access to reasonably priced health insurance despite preexisting conditions?
Looking for the easiest way to join the anti-drug war movement?
You've found it
!