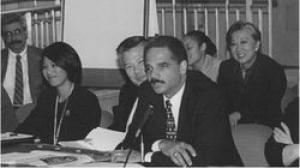 For months now there have been signs that political will may be building for a change in direction in sentencing and prison policy. In one of the top news stories the past 24 hours (
NYT
and
WaPo
, among others), it's been reported that US Attorney General Eric Holder will issue a revised policy on when federal prosecutors will seek mandatory minimum sentences, seeking to spare low-level drug offenders from such heavy punishments.
Holder will address the American Bar Association
at their annual conference in San Francisco (10:00am TODAY, Pacific Time, e.g. any minute), and is expected to highlight the reforms. (The ABA has someone
live-tweeting
, and it's scheduled to run on C-Span.)
The move should bolster momentum for the Justice Safety Valve Act, sponsored by Sens. Leahy (D-VT) and Paul (R-KY), as well as the Durbin-Lee Smarter Sentencing Act, the Charles Colson Task Force on Federal Corrections and other efforts. In a sign of changing times, the conservative ALEC legislators and business leaders network has called for passage of the Leahy-Paul bill.
Phil will be posting a feature report in the Chronicle after the speech is done.
Looking for the easiest way to join the anti-drug war movement?
You've found it
!