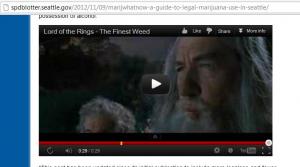 The SPD Blotter yesterday published "
Marijwhatnow? A Guide to Legal Marijuana Use in Seattle
." It includes a guide for citizens as well as a heads-up on what police and the mayor are working on. Some highlights from the document, paraphrased:
You can legally carry up to an ounce of marijuana, as of December 6th, but not in public view.
Rules for marijuana stores will be developed over the next year, and won't be done until December 1st, which means no legal sales until then.
Growing is still illegal.
Marijuana smoking in public is ticketable in some places -- treated like cigarette smoking.
Driving under the influence of marijuana is illegal.
Police like the clarity of legalization more than the grey area of Seattle's previous "lowest priority" policy for marijuana enforcement.
Police are reviewing their hiring policies with regard to prospective officers' past marijuana use.
Police will not assist the federal government in any investigations into marijuana offenses that are legal under state law.
Police will not return marijuana they seized from you prior to the passage of the initiative.
The article was written with humor, and includes embedded video from The Lord of The Rings movie of Gandalf and Bilbo blowing smoke rings.
I almost forgot the main highlight from the bulletin: "You can certainly use marijuana in the privacy of your own home."
Looking for the easiest way to join the anti-drug war movement?
You've found it
!