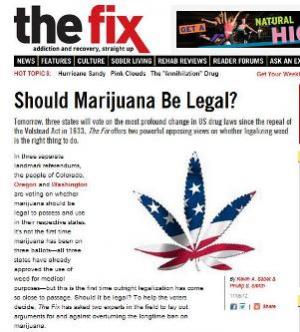 Our own
Drug War Chronicle
editor Phillip Smith debates former ONDCP senior adviser Kevin Sabet on the addiction and recovery web site
The Fix
today:
Should Marijuana Be Legal?
Tomorrow, three states will vote on the most profound change in US drug laws since the repeal of the Volstead Act in 1933. The Fix offers two powerful opposing views on whether legalizing weed is the right thing to do.
By the way, Phil is on the way to Denver right now, where he will be reporting live on Amendment 64. He will then be attending the National Marijuana Business Conference, also in Denver.
Looking for the easiest way to join the anti-drug war movement?
You've found it
!