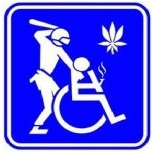 One month ago, Eric Holder
testified before Congress
that the Dept. of Justice is only targeting medical marijuana businesses that violate their state's laws. Anyone who didn't realize it was a lie should be getting the message right about now.
The federal government is moving to shut down the nation's largest and highest-profile medical marijuana dispensary operation, filing papers to seize properties in Oakland and San Jose where Harborside Health Center does business.

Copies of the federal Complaint for Forfeiture were taped to the front doors of the two dispensaries Tuesday, alleging that they were "operating in violation of federal law."

Medical marijuana advocates, as well as some state and local officials, decried the action, saying it hurts patients in legitimate need of the drug and breaks repeated promises by President Obama's Justice Department that it was targeting only operations near schools and parks or otherwise in violation of the state's laws. [LA Times]
They're not even pretending it's about state law anymore. Harborside has a permit from the City of Oakland and pays millions in taxes to the state of California. They've been covered extensively in the press, and featured on the Discovery Channel program "Weed Wars". Everyone knows exactly what goes on inside Harborside because we've seen it with our own eyes: they provide high-quality medical cannabis and other services to qualified patients. This is the definition of a legal and well-regulated medical marijuana dispensary.
So how are the feds justifying their attempt to shut down the most responsible business in the industry? They are claiming, I kid you not, that it's just too successful:
I now find the need to consider actions regarding marijuana superstores such as Harborside. The larger the operation, the greater the likelihood that there will be abuse of the state's medical marijuana laws, and marijuana in the hands of individuals who do not have a demonstrated medical need. – U.S. Attorney Melinda Haag
This is beyond outrageous and it flies in the face of even the most recent excuses put forward by the Attorney General and the President himself when attempting to justify their escalating war on medical marijuana.
By targeting Harborside solely on the basis of its reputation as the nation's "biggest" medical marijuana provider, DOJ forgets something rather important: it's the biggest because it's the best. Harborside is a model of safe, secure, patient-oriented medical marijuana services. It's also a model of legal compliance, and any effort to shut its doors simply obliterates the Attorney General's recent claims that DOJ is merely upholding local laws. He really should stop saying that.
It boggles the mind to imagine what sort of perverted logic is driving Obama's vicious assault on a voting block that helped elect him four years ago. What little the President has said on the matter in recent months is now even more obviously false, and if it isn't about upholding state laws, then the question of the Administration's true agenda is something about which we can only speculate. It isn't winning him any votes, that's for sure.
Today, anyone who's tried to make excuses for Obama's horrible handling of all this should just stop. Anyone who says this President is secretly a friend of the marijuana reform movement should close their mouth. Anyone who's claimed that "they're only busting bad dispensaries" can cut the crap. This is a war. It's Obama's war. And to my friends who are too afraid of Mitt Romney right now to criticize Obama, I say you're making our President more dangerous by meeting his mistakes with silence.
If you don't want Obama to destroy medical marijuana in America, this would be a good time to speak up about it.
Looking for the easiest way to join the anti-drug war movement?
You've found it
!