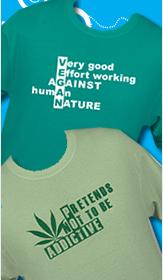 When I arrived randomly at
Thoughtful-Living.org
, it appeared at first glance to be a website literally created for the dual purposes of opposing marijuana legalization
and
condemning the practice of eating a vegan diet. And, as crazy as this sounds, further inquiry reveals that that's just exactly what it is.
By introducing articles, slogans and products that bring up the contradictions in certain cultural movements, it is hoped that people will stop to think before they choose positions that may harmful to themselves and others. Two movements which challenge knowledge and conventional wisdom, veganism and the legalization of marijuana, prompted this website.
The whole site is a dream come true for hysterical hippie-hating idiots who know how to read. The next thing you know, they'll be publishing articles about how granola makes you fat and live music damages your eardrums. In the meantime, you can enjoy anti-pot rantings that rival in stupidity almost anything we've come across in the wealthy realm of bone-headed anti-drug bloggery.
"If the make-believe world of 'pot magic' gets its way, its advocates will make others believe there are no other remedies for certain illnesses."

"Anyone can grow marijuana in their yards or in a planter and not get arrested if kept at home."

"Marijuana smoking does cause cancer, another lie perpetuated by marijuana promoters."

"Pot supporters know well that legalization would mean more pot smoking, or they would not be advocating for it so vigorously."

"The legalization of pot in the United States should be stamped out and go no further because its partisans have always claimed and promoted that marijuana is not addictive, a clear and simple lie."
Maybe I'll send a note pointing out that if people can quit meat and cheese, they can probably quit pot too. Yes, that will make them feel better.
Looking for the easiest way to join the anti-drug war movement?
You've found it
!