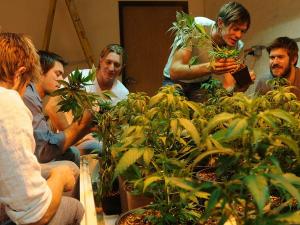 The new National Geographic series "American Weed," exploring the Colorado's booming medical marijuana industry and the pushback, premieres tonight at 10:
00pm
ET/PT. Watch, then come back here to the Speakeasy and let us know what you think.
More info on "American Weed" is online at
http://channel.nationalgeographic.com/channel/

american-weed

/
. A series of video previews is online
here
, or can be viewed below on this page.
Here's the announcement
NatGeo
emailed us this morning:
American Weed
Premieres Wednesday nights at 10 p.m. ET/PT
All-new series American Weed finds Colorado medical marijuana businesses under scrutiny and facing mounting pressures from local residents. Medical cannabis entrepreneur and Fort Collins dispensary owner Josh Stanley works aggressively to counter such pressure with radio ads and fundraisers. As the oldest of 11 kids, Josh relies heavily on several of his brothers to work at the grove and keep his business supplied in medical marijuana. Meanwhile, Sgt. Jim Gerhardt and fellow officers on the North Metro Task Force continue to find illegal grows by residents claiming to be growing medical marijuana. Is the pendulum swinging back to curb the 10-year proliferation of medical marijuana in Colorado?

American Weed: Marijuana Drama

Premieres Wednesday, February 22, 2012, at 10 p.m. ET/PT

Fort Collins dispensary owner Dawn Clifford and her husband, John, are facing the possibility of their business being shut down due to a proposed marijuana dispensaries ban. If it happens, all owners are on the chopping block, and hundreds of patients will be left in the cold. The Stanley brothers are growing their medicinal marijuana to sell at their dispensaries throughout the state. But the guys face a problem: their $250,000 crop must be moved before the plants outgrow the space and the crop is lost. Meanwhile, Scoot Crandall is rounding up votes to stop Fort Collins from being what he calls the "pot capital of Northern Colorado." And Sgt. Jim Gerhardt discovers marijuana is growing in a suburban neighborhood within reach of children — who have picked leaves and taken them to school.
Looking for the easiest way to join the anti-drug war movement?
You've found it
!