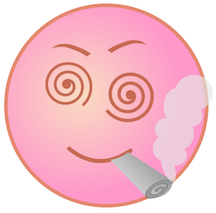 You may think legalizing marijuana is such a great idea, but what if it's actually the worst idea ever? Here's someone who believes the latter, and they've written a letter to their local newspaper explaining why.
What about the children's day care workers? If they smoke it and their senses are dulled by its use and they drop little Johnny on his head, whose fault is it now? If it's legalized, there is no crime and no recourse for problems it causes. You may be able to sue for a wrongful death or injuries incurred, but other than that there's been no crime.
...
The same situation will apply if the driving under the influence of it causes an accident. The police can't intervene on a situation that isn't a crime. Please think about these things, it is a big deal and it opens a can of worms that we will pay for the rest of our lives. [emissourian.com]
If even one sentence of this impressively incoherent editorial made any sense at all, I suppose I'd be in a different line of work. Heck, I might even be dead. We might all be dead, slaughtered ironically by the very people whose job it was to care for us while our parents were at work. After all, at the risk of terrifying the above editorial's author, marijuana is already being grown, sold, and smoked in every neighborhood in America (except the South Bronx, where they've now captured every single offender).
Fortunately, things aren't actually that bad in real life, especially if you're not a paranoid idiot. For example, our foremost concerns about bad things happening at day care centers can be resolved satisfactorily in almost every case simply by choosing a facility with a good reputation for not killing the children.
What we have here, and it's hardly a rarity in the marijuana debate, is a bit of a mix up between the rather divergent concepts of legalizing simple possession of marijuana vs. legalizing extraordinary acts of recklessness or insanity whose perpetrator happens to have consumed marijuana prior to the incident. The idea is that walking down the street with a gram of pot in your pocket would no longer be a crime. Walking down the street throwing snakes at people and screaming voodoo curses would still be illegal, but the amount of pot in your pocket at the time would be considered irrelevant at trial.
In other words, the answer to the question "whose fault is it now?" would be the same after legalization as before. If you drop a kid, crash a car, or throw a snake at somebody, it's your fault. If marijuana was involved, it's still your fault for consuming marijuana, not marijuana's fault for being consumed by you. That's the rule for alcohol, and in case anyone somehow managed not to notice, it has yet to turn our day care centers into drunken death camps.
Looking for the easiest way to join the anti-drug war movement?
You've found it
!