We noted this morning that marijuana is now legal in Washington State. (!) But what happens next?
As WA press noted, federal authorities had no plans to intervene at this time -- the expected celebrations proceeded unmolested, at least we've not heard of any problems.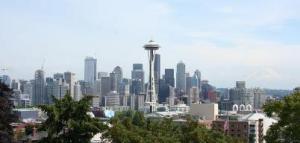 Of course that's not what the feds would do. As we've noted here, most law enforcement is state and county and local -- federal arrests for marijuana possession are a rarity, and mostly occur in places like national parks that are specifically federally controlled. Thinkers within and without our movement have been speculating what the federal response might be and what options they will legally have at their disposal once the courts weigh in.
As one of our advisors, Eric Sterling, commented in our newsletter after the election, officials at the Dept. of Justice were taken by surprise, perhaps by the passage of the initiatives and certainly by the strong margins of victory. A New York Times story today by Jack Healy noted that the Obama administration has yet to announce any policy on the matter, but have simply noted that federal law remains unchanged. According to the article, officials asked about it referred to a statement released yesterday by the US Attorney in Seattle, Jenny Durkan:
"In enacting the Controlled Substances Act, Congress determined that marijuana is a Schedule I controlled substance," [Durkan] said. "Regardless of any changes in state law, including the change that will go into effect on December 6 in Washington State, growing, selling or possessing any amount of marijuana remains illegal under federal law."
Which tells us nothing we didn't know. But Durkan did say that the administration is reviewing the initiatives. And according to Healy's article, "several people familiar with the [administration's] deliberations" say they are considering legal action. There are a few legal issues at stake:
Can the government "preempt" the states' regulatory systems -- that is, not just raid marijuana stores if they choose to, but prevent the state from exempting any growers or distributors or sellers under state law?
If they can, will that endanger the rest of the laws? The argument for that, Healy posits, would be that voters mightn't have passed the laws without the regulations.
Do the state laws run afoul of our government's treaty obligations, particularly the 1961 Single Convention on Drugs?
Many scholars are skeptical that a preemption challenge would succeed. Gregory Katsas, a DOJ official in the George W. Bush administration, pointed out to the Times that there is nothing in the laws that prevent the federal government from bringing marijuana cases in the states. The argument there is that the laws are not in "positive conflict" with the federal Controlled Substances Act (CSA), despite their clear "tension" with it. Several legal scholars submitted a brief in a California case on this subject earlier this year taking that viewpoint.
My takeaway from the brief was that the feds might not be able to preempt even the regulatory portions of the laws, and would probably have to amend the CSA to have a chance. The very same law that would be invoked in a court case, is the same one at work in prohibition of medical marijuana. And in 16 years of state medical marijuana laws, including now 10 dispensary states, no federal prosecutor has sought to invalidate any of these laws in court. That suggests they are not confident of what their prospects would be.
Regarding the treaties, my guess would be that the same reasons federal law might not preempt state marijuana legalization applies to the treaties too -- marijuana is still federally illegal. The treaties do seem to frown even legalized possession. But they explicitly allow for alternatives to criminalizing possession, such as health and education-based approaches -- which we don't have as much of as we should, but which we do have. So it's not clear that the treaties will be a problem either.
All that said, we do not know what will happen, and Congress's power to regulate commerce is broad -- the pressure on the feds to do something is greater, and the set of arguments they can bring to court are more numerous.
I am excited but also anxious about what may happen next. Are Amendment 64 and I-502 going to federal court? What will the courts say? Will the feds try to scare Washington and Colorado officials from implementing regulations -- will the states' governors stand up to them if they do, or will they seek delays as happened in a number of medical marijuana states? Will the federal raids being made against medical marijuana facilities be expanded when legalized marijuana stories eventually open? Such a strategy would be more effective in Washington, less so in Colorado where there will be more stores and where home growing is legal. But they can probably take down anyone in Colorado as they choose. Will there be threats to withhold highway funds over the laws, or law enforcement funds?
Hopefully the Obama administration will finally choose to be on the right side of history on this issue. But we'll ses. What happens next? For now we wait -- I am nervous but also excited.
Looking for the easiest way to join the anti-drug war movement?
You've found it
!