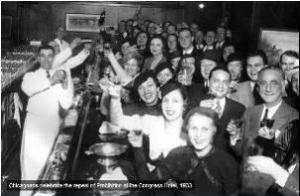 On December 5, 1933, the
21st amendment to the Constitution was ratified
, repealing federal prohibition of alcohol and sending alcohol regulation back to the states.
Tomorrow, December 6, 2012, possession of marijuana for persons 21 and over becomes legal in Washington State. There's a long way to go before marijuana prohibition finally lands in history's dustbin, much less overall drug prohibition. And of course we are anxiously waiting to see what the feds will do. On the other hand we've lived with marijuana prohibition for more than 75 years, compared with alcohol prohibition's 13 years, or drug prohibition's near century, so the week is certainly an historic one.
A big anniversary, and a big day. Stay tuned.
Looking for the easiest way to join the anti-drug war movement?
You've found it
!