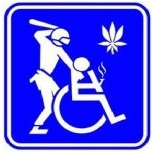 As the media turns up the heat on Obama's medical marijuana crackdown, one of the excuses he's giving is that they're just going after businesses that are violating state laws. In the President's own words:
The only tension that's come up – and this gets hyped up a lot – is a murky area where you have large-scale, commercial operations that may supply medical marijuana users, but in some cases may also be supplying recreational users. [Rolling Stone]
And again from someone at the Dept. of Justice
After Kimmel's speech, a Holder deputy told HuffPost that there was no coordinated war on medical marijuana, but that some individual clinics were breaking both state and federal laws. [Huffington Post]
Andrew Sullivan also gives a nod to this notion:
To be fair to Obama, he specifically said the policy was against those abusing the medical marijuana law to sell illegally. And some blame can be attached to the disorderly way in which medical marijuana laws have been enforced.
This excuse fails on about five different levels. The escalating assault on medical marijuana that's been ramped up over the past year is far from focused on forcing out bad businesses. If it were that simple, there wouldn't be much to argue about. States could simply clarify their policies where necessary, medical marijuana providers could maintain scrupulous compliance, and only the crooks and bums in the industry would have anything to worry about, right? Wrong.
The truth is that the feds are doing the exact opposite of respecting state laws; they're trying to destroy them. Federal prosecutors have repeatedly threatened to arrest state employees for merely administering their own medical marijuana programs. They did so in a cynical effort to prevent lawmakers in multiple states from creating the sort of tight regulations that would prevent abuse and legitimize the industry.
Obviously, you can't claim to be merely upholding local laws while simultaneously threatening the very people who make and enforce them. This has been widely reported, and it even resulted in a push-back from the governors of medical marijuana states who've become frustrated with the mixed signals they've gotten from the Obama Administration. Think about how crazy it is that these states were following Obama's lead by clarifying their laws, and then the DOJ just comes along and threatens to arrest their staffers. It's an incredible mess, and it happened because Obama and Holder completely confused absolutely everyone about how this issue would be handled.
Making matters worse, multiple federal agencies have carried out a dizzying array of attacks against medical marijuana from every other conceivable angle:
For Obama to now claim that all they're doing is targeting illegally operated dispensaries is flagrantly and transparently untrue. There really is a far-reaching federal assault on medical marijuana being carried out at the national level. Obama's refusal to acknowledge or explain it is unacceptable.
Follow Scott Morgan on Twitter: www.twitter.com/drugblogger
Looking for the easiest way to join the anti-drug war movement?
You've found it
!