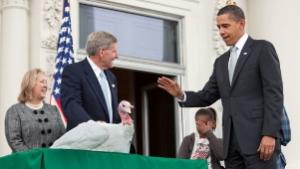 The
Washington Post has criticized President Obama
for failing to use the presidential pardon and clemency powers during his first few years in office. Opines the Post:
Mr. Obama has thus far extended mercy to a mere 17 individuals, most of whom committed relatively minor offenses decades ago. Take, for example, the case of Ronald Lee Foster, who was an 18-year-old Marine in 1963 when he was sentenced to one year of probation and a $20 fine for mutilating US coins. It did not take an abundance of courage for Mr. Obama to pardon Mr. Foster. At this pace, Mr. Obama is likely to fall below the 189 pardons issued by George W. Bush -- the modern president with the worst track record in this area.
The Post editorial was prompted by an Office of the Inspector General audit that detailed a troublingly clogged up pardon process.
Who are some good candidates for clemency or pardon?
Mr. Obama need only look to the thousands of Americans -- many of them young, African American men -- incarcerated for inexcusably lengthy periods because of draconian crack cocaine laws. Mr. Obama joined with a bipartisan coalition in Congress to reduce the penalties and make them more proportional to the crime. Some inmates may benefit from a U.S. Sentencing Commission decision this summer that allows judges to resentence inmates under new guidelines reflecting the penalty reductions. But many nonviolent offenders worthy of relief will be out of luck because they were sentenced to mandatory minimum prison terms. This is exactly the kind of situation that cries out for presidential intervention.
The medical marijuana "left-behinds" are another good set of candidates, as I mentioned in a post earlier today.
To be fair, the pardon has suffered some blows to its reputation in recent times -- furors over the Mark Rich pardon by President Clinton and the Scooter Libby clemency by President Bush have not helped things. But Kemba Smith and Dorothy Gaines are only two examples of what good can be done, for individuals and society, when clemency is granted to deserving parties. Also to be fair, Obama did support the recent reforms made to crack sentencing, as the Post editorial notes. But it's too little, and too late for an increasing number of small-time offenders "incarcerated for inexcusably lengthy periods of time," as the Post put it, so long as inaction on criminal justice reform remains the norm by this Congress and administration.
Times is wasting -- lives are being unjustly wasted -- the president should take a step and a stand for justice. The annual
Looking for the easiest way to join the anti-drug war movement?
You've found it
!