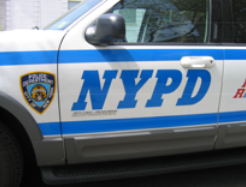 A new report from the Drug Policy Alliance reveals that New York City spent an eye-widening $75 million arresting and locking people up for marijuana last year alone. It's quite an achievement considering that concealed possession of small amounts isn't even supposed to be illegal in NYC.

I must say, I think NYPD deserves lots of recognition for really making this a top priority. Do you think it's easy to arrest $75 million worth of marijuana users every year? It's not. You have to really stay focused and not lose sight of your quota goal, even as selfish New Yorkers are constantly calling in and claiming to be the victims of crimes other than marijuana possession.

There's just one problem though, which is that the streets of NYC still reek of dank herb, and you don't even want to know what gainfully employed hippies are doing in apartments all over the city. If NYPD is serious about stamping out pot in the Big Apple, it's obviously going to cost at least $1 billion per year to keep the situation under control, and until that funding becomes available, I feel like maybe the $75 million should be spent on something else, like schools.
Looking for the easiest way to join the anti-drug war movement?
You've found it
!