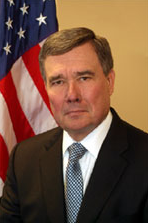 It's hard to imagine a worse job than defending the drug war every single day, and it looks as though Gil Kerlikowske has had about all he can take:
President Barack Obama's drug czar is among the contenders to become the first Chicago police superintendent in Mayor-elect Rahm Emanuel's administration, the Chicago News Cooperative has learned.

Gil Kerlikowske, whose formal title is director of the White House Office of National Drug Control Policy, met last week with Emanuel in Chicago and was in town again over the weekend for an interview with the police board, sources told the CNC. (Chicago News Cooperative)
This could make for an early end to Kerlikowske's term as head cheerleader for the U.S. War on Drugs, but it isn't hugely surprising. He struck me as a rather reluctant drug czar, willing to read the script, but uninspired when it came to the dirty game of D.C. drug war politics. I'm tempted to speculate that he never fully appreciated the extent to which the job simply involved performing public relations duties as Americans grow increasingly disgusted with everything that office stands for.

His recent clash with the Seattle Times over a marijuana legalization editorial made for some pretty embarrassing press and really cemented the already well-understood nature of the drug czar position as basically a cranky government stooge who wags his finger at proponents of policy reform. It's not glamorous work, but worse, it isn't even important in any of the ways that someone like Kerlikowske would want it to be. You don't get to fix or change anything, so unless you love the drug war exactly the way it is, the job is utterly unrewarding.

If Kerlikowske does move on, it will be the second high-ranking departure from ONDCP under Obama, and it should raise new questions about what the hell actually goes on over there.
Looking for the easiest way to join the anti-drug war movement?
You've found it
!