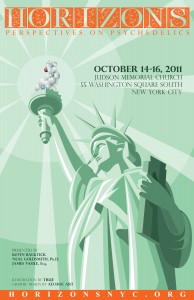 HORIZONS:
PERSPECTIVES ON PSYCHEDELICS
OCTOBER 14-16, 2011
CELEBRATING FIVE YEARS OF HORIZONS
Horizons is a conference about psychedelics that is held annually in New York City. Its goal is to open a fresh dialogue on their role in medicine, culture, history, spirituality, and creativity.
Horizons is a non-profit endeavor hosted by Judson Memorial Church in the heart of Greenwich Village.
Visit http://www.horizonsnyc.org for further information.
Date:
Fri, 10/14/2011 - 9:00am
-
Sun, 10/16/2011 - 6:00pm
Looking for the easiest way to join the anti-drug war movement?
You've found it
!