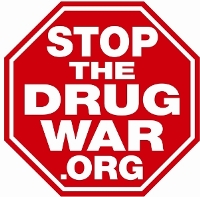 Pennsylvania Republican Congressman Tom Marino reportedly gets the nod. It's not good news for progressive drug policy reform.
Nobody's selling strawberry-flavored meth to your kids, but this bill could still hurt some people.
Nothing inspires confidence like masked cops, right?
West Virginia is poised to become the next medical marijuana state, New Mexico's GOP governor vetoes a bill that would have allowed medical marijuana for opioid addiction, Ohio takes another step toward getting its system up and running, and more.
The Uruguayan government sets the date for legal marijuana sales in pharmacies to begin, West Virginia is just a governor's signature away from becoming the 29th medical marijuana state, Idaho's Republican governor vetoes a broadly-supported asset forfeiture reform bill, and more.
Congressional drug policy reform bills are piling up, New Mexico's GOP governor vetoes medical marijuana and overdose prevention bills, Canada's Liberals roll out their marijuana legalization bill Thursday, and more.
A Colorado bill barring co-op grows heads to the governor, an Oregon bill aimed at protecting marijuana consumers and an Iowa bill reforming asset forfeiture go to their governors, Trump reportedly names a new drug czar, and more.
The US attorney general admits being surprised that people don't like his stance on marijuana, Vermont's legalization bill is on a death watch, Illinois legalizers gear up, and more.
Permission to Reprint:
This issue of Drug War Chronicle is licensed under a modified
Creative Commons Attribution license
. Articles of a purely educational nature in Drug War Chronicle appear courtesy of DRCNet Foundation, unless otherwise noted.