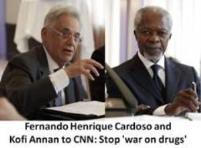 There's a lot going on in the world of drug policy. Here are the stories we noted in our new Chronicle AM daily survey this week.
When can you get a guilty plea overturned in federal court? When the cop who busted you is crooked, that's when.
Former UN General Secretary Kofi Annan and former Brazilian President Fernando Henrique Cardoso called for global drug decriminalization and other reforms in an op-ed published on CNN.com today.
Portland, Maine, has become the first East Coast city to vote to legalize marijuana possession, and it did so overwhelmingly.
Marijuana policy reform questions are on the ballot in Colorado, a trio of Michigan localities, and Portland, Maine, tomorrow.
And the beat goes on. From the West Coast to the East Coast and from the Great Lakes to the Gulf Coast, medical marijuana is on the agenda.
We took a week off from the Corrupt Cops stories, but the corrupt cops sure didn't. Here's a rather lengthy list of backlogged law enforcement miscreants.
Permission to Reprint:
This issue of Drug War Chronicle is licensed under a modified
Creative Commons Attribution license
. Articles of a purely educational nature in Drug War Chronicle appear courtesy of DRCNet Foundation, unless otherwise noted.