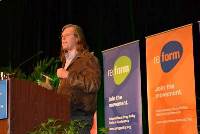 If you like to wager, Alaska, Oregon, and Rhode Island look like the best bets for legalizing marijuana next year. But the situation is fluid, and there could be others.
A marijuana legalization initiative that has big donor financial backing has been filed in Oregon.
Some initial videos from the big conference, including Ifetayo Harvey, Rep. Jared Polis, Ethan Nadelmann, Rev. Sanders, and a short highlights piece from the first day.
The Florida Supreme Court will hear arguments in December on whether a medical marijuana initiative can move forward.
A Michigan couple get their child back, New Jersey gets its second dispensary, and Washington regulators get an earful over attempts to do away with patient home grows under I-502 legalization. And much, much more.
Police trying to teach children about "drug awareness" inadvertently taught them an entirely different lesson in Indiana last week.
Permission to Reprint:
This issue of Drug War Chronicle is licensed under a modified
Creative Commons Attribution license
. Articles of a purely educational nature in Drug War Chronicle appear courtesy of DRCNet Foundation, unless otherwise noted.