A former Michigan medical marijuana regulator heads to prison for bribery, the Jacksonville Sheriff's Office rejects cocaine field tests as "unreliable," and more.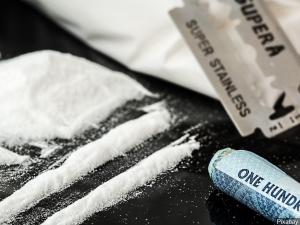 Medical Marijuana
Michigan Former Medical Marijuana Top Regulator Heads for Prison on Bribery Charges. The former head of the state's Medical Marihuana Licensing Board was sentenced to 55 months in federal prison Thursday after earlier pleading guilty to soliciting and accepting bribes. Rick Johnson, a Republican who is also the former Speaker of the House, headed the now defunct board, which was in charge of reviewing and granting licenses for people seeking to grow and sell medical marijuana.
"Today's sentence sends a very strong message that public corruption will not be tolerated in the state of Michigan," Mark Totten, US Attorney for the Western District of Michigan, said after the sentencing. "The length of this sentence reflects the seriousness of the offense."
Johnson admitted receiving at least $110,000 in payments, $20,000 in loans that did not have repayment terms, and "thousands of dollars" in services from a sex worker. Johnson chaired the board from 2015 to 2017. Gov. Gretchen Whitmer (D) dismantled the board in 2019.
Utah Dispensary Workers Vote to Unionize with UFCW. Workers at the Dragonfly Wellness medical marijuana dispensary in Salt Lake City voted Tuesday to join the United Food and Commercial Workers (UFCW). The unionization vote involved 30 employees, who become the first in the state's medical marijuana industry to unionize.
"Employees included in the newly formed cannabis union include Dragonfly Wellness associates, team leads, drivers, delivery leads, inventory specialists, pharmacists, and head trainers," according to a UFCW Local 99 news release.
Drug Policy
Seattle Mayor Issues Executive Order Guiding Implementation of New Law Prohibiting Public Consumption of Drugs. On Thursday, Mayor Bruce Harrell (D) issued Executive Order 2023-006, guiding implementation and data collection related to the Public Safety and Health Response to the Opioid Crisis Ordinance prohibiting public consumption of fentanyl and other drugs. This follows Mayor Harrell's April Executive Order addressing fentanyl and the synthetic drug crisis, part of the City's dual public health and public safety approach to the issue, including advancing innovative treatment solutions to help people access services and get well.
"Fentanyl and other dangerous drugs are killing people, causing harm, and creating unsafe conditions Downtown and in neighborhoods across Seattle. This law gives us another tool to help those in need access treatment and to keep sidewalks and neighborhoods welcoming for all residents, and my Executive Order provides needed implementation guidance and ensures we are collecting data to measure effectiveness," said Harrell. "We are committed to learning lessons from the past, holding traffickers, dealers, and those causing the most harm accountable, and helping people access treatment and care through diversion services."
The Executive Order provides direction to officers on how to enforce the ordinance, including examples of how public use and possession can be established and factors that will guide the threat of harm assessment. The Executive Order makes clear that harm pertains to the impact on the ability of others to use shared public space and identifies areas that have a high likelihood of the presence of other community members and where the use of controlled substances impacts public safety and security.
Mayor Harrell's Executive Order also reaffirms that diversion is the preferred response to public use and possession offenses and sets expectations for how officers will handle situations where a threat of harm to others is not present. Mayor Harrell's budget, announced earlier this week, includes millions toward diversion programs and efforts to provide treatment and curb overdose deaths.
Lastly, the Executive Order calls for the collection of data to assess the scope of public use and possession of controlled substances to both better understand the problems facing the City and to create a baseline to measure the effectiveness of the ordinance and its enforcement. This includes analyzing data from Public Health — Seattle & King County, SPD, and other sources.
The legislation passed by the Council and signed by Mayor Harrell will take effect next month. In effect, it will:
Codify state law making public consumption of illegal drugs a gross misdemeanor in the City's criminal code.
For the first time in the City's history, designate diversion and treatment as the preferred approach to addressing substance use issues – connecting people with care and responding to a public health crisis with evidence-based health solutions.
Define a new threat of harm standard – differentiating between drug use that threatens others, recognizing the real and perceived danger of consumption of illegal drugs in public places, and aiming to support safe and welcoming neighborhoods by reducing public use.
The ordinance, this Executive Order, and the forthcoming SPD policy are just one aspect of the City's efforts to address the public health and safety concerns caused by synthetic narcotics.
Drug Testing
Florida Sheriff's Office Ends Use of "Unreliable" Cocaine Testing Kits. The Jacksonsville Sheriff's Office announced Wednesday it would stop using cocaine field tests after finding they generate false-positives for common over-the-counter medications. The office issued a memo ordering personnel to quit using the Scott Company cocaine kits immediately and return any unused ones.
Officers will now need to submit suspected cocaine to the Florida Department of Law Enforcement laboratory for formal testing. Only if it tests positive at the state lab should officers seek an arrest warrant.
While field test results are not by themselves sufficient evidence to prosecute a drug possession case, a positive field test had been enough for an officer to make an arrest, and defendants often plead in drug cases rather than take the cases to trial. Thus, it is possible false positives have resulted in wrongful arrests and convictions.
"Following a meeting this morning with law enforcement, we became aware that field test kits for cocaine have resulted in false positives. We immediately informed the Public Defender's Office, Regional Conflict Counsel, the Chief Judge, and local Criminal Defense Bar of this development. We are conducting a thorough review of cases potentially implicated to determine what actions need to be taken moving forward to address this issue."
The office "is now exploring new product options for presumptive field-testing kits for cocaine for future use."