The end is in sight.
After surviving a perilous passage through more than two dozen House and Senate committees, companion marijuana legalization bills, House File100 and Senate File 73 are nearing the finish line. The House bill has passed all 15 committees that examined it and awaits a House floor vote on Monday. The Senate bill has but one committee vote to go before it, too, heads for a floor vote.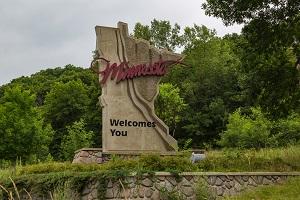 With the Democratic-Farm-Labor (DFL) Party supporting the bills and controlling both the legislature and the governor's mansion, the bills are expected to pass their respective chambers. But they may require a conference committee vote to reconcile any differences before heading to DFL Gov. Tim Walz, who also supports legalizing marijuana.
What a difference an election makes. Two years ago, similar legislation passed the House only to be blocked by the Republican-controlled Senate. But this year, the DFL is in control, and the Republicans will not be able to stop them.
The bills have been sliced and diced during the committee process. So, now that Minnesota is on the verge of becoming the next state to legalize marijuana (although Delaware could beat it with legalization bills already on the governor's desk), what is legalization going to look like there? Here are the key provisions in the latest versions of the bills:
The bill originally allowed adults to possess up to 5 pounds of marijuana at home, but the House bill now sets that limit at 1 ½ pounds and the Senate versions sets it at 2 pounds, so this will be hashed out in conference committee.
Home cultivation of up to 8 plants is allowed.
People 21 and over can purchase up to 2 ounces of buds, 8 grams of concentrate, and 800 milligrams of edibles at one time. They can also possess these amounts in public.
Gifting up of up 2 ounces without remuneration is allowed.
On-site consumption at special events will be allowed.
Marijuana deliveries will be allowed.
A state agency, the Office of Cannabis Management, will oversee licensing of recreational and medical marijuana enterprises. The House bill allocates $73 million for administrative and educational costs through 2026, when revenues from legalization are expected to sustain such costs.
Cities and counties can reasonably regulate but not prohibit marijuana businesses.
Cities or counties can operate their own retail marijuana shops.
Expungements for past misdemeanor marijuana offenses will be automatic, while past pot felonies will be examined on a case by case basis.
The House bill sets an 8 percent gross receipts tax on marijuana products for the next four years, while the Senate bill has been amended to set that rate at 10 percent, so this will be hashed out in conference committee.
Social equity applicants will get preferential scoring on applications, with social equity applicants defined as veterans with marijuana convictions and residents of low-income neighborhoods.
Commercial marijuana growers will pay a $10,000 application fee, a $20,000 initial license fee and $30,000 to renew their licenses. Retailers would pay $2,500 in application fees and $5,000 for renewals, while "microbusinesses" will pay no initial license fee, a $500 application fee, and $2,000 for annual renewal.
There is a special category of low-potency hemp retailer and processor licenses to preserve the state's existing CBD edibles and drinks market.
Vertical integration allowing medium-sized businesses to operate grows, processing facilities, and retail shops will be allowed under a "mezzobusiness" license. Hemp companies and marijuana "microbusinesses" will also be allowed to vertically integrate.
If and when Minnesota legalizes marijuana, it will blow a gaping hole in regional pot prohibition. All of the states it borders -- North Dakota, South Dakota, Iowa, and Wisconsin -- are prohibition states. In the Upper Midwest, Minnesota will lead by example.