A New Hampshire coalition begins laying the groundwork for another try at marijuana legalization, Rhode island adult use marijuana sales at existig dispensaries are set to begin next week, and more.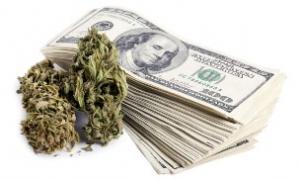 Marijuana Policy
New Hampshire Coalition Prepares to Try Again with Legalization Bill. A bipartisan coalition is preparing to once more try to push a marijuana legalization bill through the legislature, ending the state's status as an island of pot prohibition in a New England sea of states that have already legalized it Among the groups joining efforts are the conservative Americans for Prosperity, as well as the New Hampshire Cannabis Association, the New Hampshire chapter of the American Civil Liberties Union (ACLU), the Marijuana Policy Project, and the House Democratic Cannabis Caucus. The coalition is conferring with lawmakers from both parties and says its bill will have bipartisan sponsorship. In past sessions, including this year, bills have passed the House only to be die in the Senate.
Rhode Island Set to Commence Adult Use Marijuana Sales on December 1. Governor Dan McKee (D) and the Rhode Island Department of Business Regulation's Office of Cannabis Regulation announced Tuesday that five licensed medical marijuana compassion centers have received state approval to begin selling adult use marijuana on or after December 1. Pursuant to the Rhode Island Cannabis Act, which was passed by the General Assembly and signed into law by Governor McKee in May, a call for applications for "hybrid retail licenses," which allow licensed compassion centers to sell both medical marijuana as well as safe, well-regulated and competitively priced marijuana products to Rhode Island adults over the age of 21, was issued in early October. The five compassion centers that have received state approval to commence adult use sales are Aura of Rhode Island (Central Falls), Thomas C. Slater Center (Providence), Mother Earth Wellness (Pawtucket), Greenleaf Compassionate Care Center (Portsmouth), and RISE Warwick (Warwick).
Drug Policy
Human Rights Watch Organizes Joint Letter to House Leadership Urging Passage of Federal Drug Decriminalization Bill. Dozens of racial justice, social justice, drug policy, criminal justice, public health, harm reduction and other advocacy groups have cosigned a letter to the House leadership calling for "ending criminal penalties for the possession of personal-use amounts of drugs." The letter noted that of more than 1.15 million drug arrests in 2020, 86 percent were for simple drug possession, even though "we have an abundance of evidence that demonstrates that drug arrests, prosecutions, and incarceration have had no substantial effect on ending problematic drug use or curbing the illegal drug supply in the United States." The letter called for passage of the Drug Reform Act of 2021(HR 4020), stating "to begin meaningfully addressing our country's mass incarceration and overdose epidemics, we urge Members of Congress to commit to support comprehensive legislation that decriminalizes drug possession and centers health, equity, autonomy, and justice."
International
Colombia Marijuana Legalization Bill Wins Senate Committee Vote. A marijuana legalization bill supported by the government of President Gustavo Petro that has already advanced in the Chamber of Representative has now won a Senate committee vote and heads for a Senate plenary vote. The bill would legalize the possession and use of the plant by people 18 and over and support "the right of the free development of the personality, allowing citizens to decide on the consumption of cannabis in a regulated legal framework." Justice Minister Nestor Osuna told the Senate Monday, "The national government supports this draft legislative act for the adult use of cannabis. We believe that it is very important that this step be taken towards a responsible market—a responsible regulation that allows us to overcome this prohibitionist atmosphere."