Oklahoma Republicans move to take on what they see as an out of control medical marijuana system, Afghan farmers are planting more opium poppies this year, and more.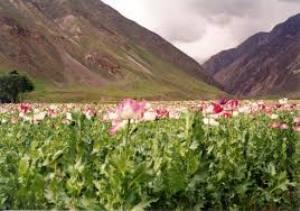 Medical Marijuana
Oklahoma GOP Lawmakers Move to Rein in "Wild West" Medical Marijuana System. The House's Republican Caucus on Monday rolled out a package of bills aimed at reining in the state's free-wheeling medical marijuana program. The move comes after state agents seized more than 150,000 marijuana plants in a bust last month. "We have seen black market elements competing with legitimate Oklahoma businesses. They are putting our citizens at risk. They're doing things in an illegal, unethical manner," said Rep. Jon Echols (R-Oklahoma City). The package of 12 bills includes full implementation of a seed to sale system, grants to county sheriffs to fund law enforcement, making the Oklahoma Medical Marijuana Authority a stand-alone agency, provisional licensing with pre-licensing inspections, separate licensing for wholesalers, tough electrical and water data reporting by growers, annual inspection, and more. "If you're an illegal operator of the state of Oklahoma, your time is up," warned Rep. Scott Fetgatter (R-District 16).
Drug Policy
Rhode Island Drug Decriminalization, Therapeutic Psilocybin Bills Filed. Lawmakers filed a pair of drug reform bills last week, one of which, House Bill 7896, would decriminalize the possession of up to an ounce of all drugs except fentanyl, while the second bill, House Bill 7715, would allow doctors to prescribe psilocybin and would decriminalize psilocybin and buprenorphine. Buprenorphine is an opioid often used as a harm reduction tool to help people transition away from more addictive compounds. The broader decriminalization bill, would make possession of up to an ounce of any drug other than fentanyl a civil violation punishable by a $100 fine for a first offense and up to $300 for subsequent offenses.
Psychedelics
Missouri GOP Lawmaker Files Therapeutic Psychedelics Bill. State Rep. Tony Lovasco (R) on Tuesday filed House Bill 2850, which would legalize a range of natural psychedelics for therapeutic use and decriminalize small-time possession. Under the bill, patients with specified conditions such as treatment-resistant depression, PTSD, and terminal illnesses access to substances such as psilocybin, DMT, mescaline, and ibogaine at designated care facilities or the patients' or caregiver's residence. Patients would be allowed to possess and use up to four grams of the substances. The bill decriminalizes the possession of less than four grams outside the medical model but makes possession of more than four grams a class A misdemeanor punishable by up to a year in jail.
International
Afghan Opium Production Surges in Kandahar and Helmand. Opium and other drugs are being sold in open markets, and farmers in the country's opium heartland of southern Helmand and Kandahar provinces are sowing more poppies this year amidst the country's economic collapse after the Taliban's seizure of power last summer and the subsequent withdrawal of all Western assistance to the country. "There is nothing else to cultivate. We were growing wheat before. This year -- we want to cultivate poppy. Previously they were asking for bribes every day but we don't have that problem this year," one farmer said. "If we don't cultivate poppy, we don't get a good return, the wheat doesn't provide a good income," farmer Mohammed Kareem said. "There are no restrictions this year. If the Taliban wanted to ban it, they must let us grow it this year at least," added farmer Peer Mohammad.
Myanmar Militias, Rebel Armies Ramp Up Drug Dealing Amidst Civil War. Armed groups on both sides of Myanmar's civil war are ramping up drug production amidst the turmoil, with much of the methamphetamine and heroin supply going to Asian countries through the porous Laotian border, a UN Office on Drugs and Crime (UNODC) official said this week. The $60 billion trade based largely in Shan state is now going into overdrive, he said. "Seizures in Laos and Thailand are off the charts and it is not because of suddenly improved law enforcement -- some other countries' seizures are up too, but in Thailand and Laos the connection to trafficking patterns and locations in Shan is very clear," said Jeremy Douglas, UNODC representative for Southeast Asia and the Pacific.