A Denver rabbi busted for using magic mushrooms in his healing sees charges dropped, US drug wholesalers are leaving some psychiatric patients in the lurch as a crack down on distributing controlled substances rolls out, and more.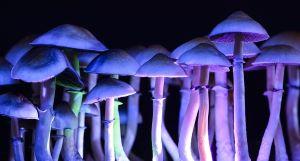 Psychedelics Denver Drops Charges Against Mushroom Rabbi Who Promotes Religious Psychedelic Use. In the wake of voters' decision last month to legalize psilocybin, the chemical compound found in psychedelic mushrooms, the Denver district attorney announced last week that his office was dropping charges against Ben Gorelick, who had been arrested in February on charges of possession of a controlled substance with intent to distribute. Gorelick operates Sacred Tribe,, a multifaith community that combines psilocybin use and ideas rooted in Jewish tradition. The DA's office said it dropped the charges against Gorelick "in light of voters' decision" to pass Proposition 122, which legalized the growing and sharing of psilocybin by people 21 and over. While the February bust put an end to psilocybin ceremonies for the rest of this year, Sacred Tribe continued to hold Shabbat dinners and other activities
Portland Police Raid Shroom House, Store Where Psychedelic Mushrooms Were Being Sold Openly. Shroom House, a Burnside Avenue herbal shop that had been openly selling psilocybin mushrooms for the past two months amidst a rising crescendo of publicity is no longer selling psilocybin mushrooms after Portland police raided it last Thursday. Police said they seized 22 pounds of psilocybin, along with $13,000 in cash and made four arrests, including store owner Steven Tachie Jr., 32. Oregon voters passed on initiative in 2020 that decriminalized the mushrooms within narrow therapeutic confines and another initiative that decriminalized drug possession in general, but they didn't pass anything that allowed for the unlicensed sale of psilocybin mushrooms. Tachie and one other person are facing 10 felony counts of money laundering and 10 counts of unlawful delivery of a controlled substance within 1,000 feet of a school, police said.
Opiates and Opioids
Drug Wholesale Crackdown in Response to Opioid Crisis Is Making Access to Some Psychiatric Drugs Problematic. US drug wholesalers who have been hit with huge cash settlements over their role in the country's opioid crisis are responding by cracking down on "suspicious" orders from pharmacies. That move is preventing some pharmacists from being able to dispense a combination of stimulants and sedatives commonly prescribed by psychiatrists for patients suffering conditions such as anxiety and ADHD. The move by AmerisourceBergen, Cardinal Health, and McKesson Corp came after a $21 billion nationwide opioid settlement in July. Now, pharmacists are reporting that they are being cut off from distributing any controlled substances by the distributors after filling prescriptions for psychiatric drugs such as the stimulant Adderall, used for treating ADHD, and Xanax, used as an anti-anxiety drug. The distributors imposed the bans because pharmacies had filled prescriptions written by doctors who were frequent prescribers of controlled substances or who had filled prescriptions for both stimulants and sedatives for the same patients. Some members of the American Psychiatric Association complained that pharmacies were no longer comfortable filling some combination prescriptions out of fear of being blacklisted. "This is detrimental potentially to many patients who have comorbid anxieties along with ADHD, or sleep issues along with ADHD,"said Matthew Goldenberg, president-elect of the Southern California Psychiatric Society. "I think it's a trickle-down effect from the opiates."
International
Mexican Opium Poppy Production is Up, New Report Finds. A joint report this week from the UN Office on Drugs and Crime (UNODC) and the government of Mexico finds that opium poppy cultivation increased by 12 percent in the 2019-2020 season over the year before. Cultivation is occurring in areas that have long seen poppy crops, such as Oaxaca and Guerrero in the southwest, Nayarit in the west, and the northwestern Golden Triangle within the states of Chihuahua, Durango, and Sinaloa. Faced with rising resort to the synthetic opioid fentanyl, opium production had been declining since the 2016-2017 season, but that trend was broken in 2019-2020. "Despite the eradication campaigns by the Mexican government, the opium gum market persists and continues to be a very profitable activity," the report stated. "Opium gum can be stored for long periods of time, allowing it to be marketed when conditions are optimal for the farmer."