South Korean prosecutors sign on for more, better drug war, a group of French senators makes an urgent call for marijuana legalization, and more.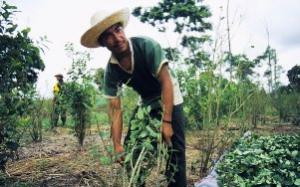 Marijuana Policy
Gallup Poll: Support for Marijuana Legalization Remains High, But Americans Are Split on Whether Pot is Good or Bad for Society. In a Gallup poll released this week, support for marijuana legalization was at 68 percent, equaling previous Gallup highs on the question. But Americans were evenly split on whether it is good or bad for society, with 49 percent saying it was a positive and 50 percent saying it was a negative. People who have used marijuana -- nearly half of American adults -- were much more likely to view it positively for both users (70 percent) and society (66 percent). Those who have not used marijuana were more likely to say has negative effects on users (62 percent) and society (72 percent). Some 16 percent of respondents said they currently use marijuana.
International
Bolivia Sees Third Week of Clashes Among Coca Growers. For the third week in a row, hundreds of coca growers from La Paz department marched on Monday to demand the closure of a "parallel" coca market affiliated with the ruling Movement Toward Socialism (MAS) Party. Under the country's coca laws, only two markets are recognized -- one in La Paz and one in Cochabamba -- but the "parallel" market has been operating anyway without any government action.
The La Paz coca growers, organized as Adepcoca, marched toward the parallel market in Villa El, where residents put up barricades to protect themselves and their homes from police and protesters. They had suffered damage during street clashes in the past two weeks. Hundreds of police officers protected the market, shooting teargas at the marchers and arresting 24 of them. But more signs of division among coca growers are becoming apparent. The coca growers of the tropics of Cochabamba declared themselves in a "state of emergency" and said it was not possible "to side with the pro-coup right wing." The government, for its part, on Monday sent a letter to the Adepcoca unionists with an invitation for talks to resolve the issue.
French Senators Petition Macron's Government for Urgent Marijuana Reform. Some 31 senators from the Socialist, Ecologist, and Republican group -- a socialist bloc making up about one-fifth of parliament -- published a letter in the Le Monde newspaper calling on the government of President Macron to launch a consultative process to introduce new legislation to legalize marijuana. The senators rejected the half-step of decriminalization, saying it was a demagogic option and would merely "perpetuate the existing ban." In a commentary published with the letter, Le Monde said that marijuana prohibition is "unsustainable" and it is time to "face reality head-on."
South Korean Prosecutors Vow All-Out War on Organized Crime, Drugs. Prosecutors on Tuesday declared all-out war on drugs and organized crime amid a rising number of such offenses. Drug seizures are at an all-time high and drug arrests are up 13 percent over last year. Prosecutors from six district prosecutors' offices met at the Supreme Prosecutor Office (SPO) in Seoul to plot strategies to suppress organized crime and drug crimes. The prosecutors said the increase in drug crimes was because ordinary citizens are using social media to buy and sell drugs. The SPO said it will construct a database on organized crime and drug crime and would strengthen cooperation with international organizations, such as the UN Office on Drugs and Crime (UNODC). It also said it would form a consultative group with police and the state intelligence agency.