Missourians will be voting on whether to free the weed in November. On Tuesday, Secretary of State John Ashcroft certified that an initiative in the form of a constitutional amendment to legalize marijuana had turned enough valid voter signatures in to qualify for the ballot.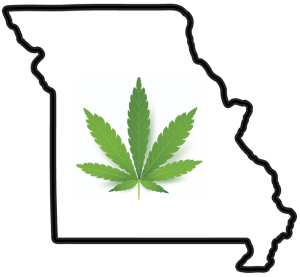 That means voters in a trio of states will have their say on marijuana legalization in November. Similar initiatives in Maryland and South Dakota have already been approved. And there could be more: Signatures for initiatives have already been turned in and are awaiting verification in North Dakota and Oklahoma, and Arkansas activists qualified for the ballot, too, only to see their efforts thrown out over the ballot title. They are appealing that decision.
"I encourage Missourians to study and educate themselves on any ballot initiative," Ashcroft said in a press release. "Initiative 2022-059 that voters will see on the November ballot is particularly lengthy and should be given careful consideration."
According to Legalize Missouri 2022, the group behind the initiative, it would allow "Missourians 21 years and older to possess, purchase, consume and cultivate marijuana," as well as providing for the automatic expungement of nonviolent marijuana-related offenses. People would be able to possess up to three ounces and grow up to six flowering plants, along with six immature plants, and six clones.
The initiative would tax retail sales at 6 percent, with localities allowed to add a 3 percent sales tax. It also gives cities and counties the option of disallowing retail sales via a popular vote.
The measure also "seeks to broaden industry participation by small business owners and among disadvantaged populations, including those with limited capital, residents of high-poverty communities, service-disabled veterans, and those previously convicted of nonviolent marijuana offenses." It would also allow existing medical marijuana operations to seek recreational sales licenses beginning December 8, with regulators allowed up to 60 days to approve them, giving them an effective head-start on newcomer competitors.
"Our statewide coalition of activists, business owners, medical marijuana patients and criminal justice reform advocates has worked tirelessly to reach this point, and deserves all the credit," said John Payne, Legal Missouri 2022 campaign manager said in a press release on Tuesday. "Our campaign volunteers collected 100,000 signatures, on top of paid signature collection. That outpouring of grassroots support among Missourians who want to legalize, tax and regulate cannabis made all the difference."
The National Organization for the Reform of Marijuana Laws (NORML) and its state chapter supported the initiative and were part of that coalition.
"NORML's Chapter leaders in Missouri played a major role in writing this initiative so that cannabis consumers' interests are protected," Missouri NORML Coordinator and Legal MO '22 Advisory Board Chair Dan Viets said.
And national NORML was optimistic about November.
"Recent polling reveals that a majority of Missouri residents are ready and eager to end their state's failed marijuana prohibition," NORML Executive Director Erik Altieri said. "That is because Missourians, like the overwhelming majority of all Americans, recognize that prohibition is a disastrous and draconian practice best cast into the waste bin of history. Voters in the Show Me State want a sensible policy of legalization and regulation, and that is why we expect that they will overwhelmingly vote 'yes' on this initiative this fall."
But not everybody in the Missouri marijuana community is happy. The pro-legalization and criminal justice reform group Great State Strategies, led by lobbyist Eapen Thampy, has come out against the measure because it includes some criminal penalties, such as for smoking in a public place, and because of complaints over licensing.
"We oppose this initiative because it would create constitutional criminal penalties for marijuana possession and use and furthermore excludes those with felony marijuana charges from automatic expungement or release from prison," Thampy said in a statement. "Their licensing scheme is racist and offensive: instead of opening up the free market they create a second class, Jim Crow licensing structure that will be easily rigged by the major industry players."
Similarly, the Missouri Marijuana Legalization Movement said it planned to campaign against the initiative, also citing the criminal penalties, as well as fears that giving the existing medical marijuana industry the first crack at recreational licenses would give it too much control over adult-use marijuana.
"Here we are still putting people in jail over dime bags while these rich men are making millions of dollars under these dispensaries and grow facilities," group founder Tim Gilio said.
Whether the concerns of the disgruntled activists will resonate with the voters remain to be seen, but now, the Show Me state has the chance to show the rest of the country where it stands.