House Judiciary Committee Chairman Jerrold Nadler (D-NY) took to the House floor last Friday to begin the push to end federal pot prohibition this year with the introduction of the Marijuana Opportunity Reinvestment and Expungement (MORE) Act.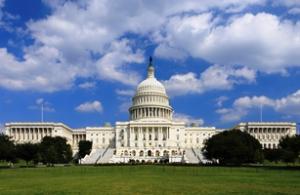 "For far too long, we have treated marijuana as a criminal justice problem instead of as a matter of personal choice and public health. Whatever one's views are on the use of marijuana for recreational or medicinal use, the policy of arrests, prosecution, and incarceration at the federal level has proven unwise and unjust,"
Nadler said
as he addressed his colleagues. "In my view, applying criminal penalties, with their attendant collateral consequences for marijuana offenses is unjust and harmful to our society. The MORE Act comprehensively addresses this injustice, and I urge all of my colleagues to support this legislation."
The bill's initial cosponsors are Representatives Earl Blumenauer (D-OR), Barbara Lee (D-CA), Sheila Jackson Lee (D-TX), Hakeem Jeffries (D-NY) and Nydia Velázquez (D-NY. A similar version of the MORE Act passed the House last year, only to die from inaction in the Republican-controlled Senate. But this year, the Democrats are in control, and Senate Majority Leader Chuck Schumer (D-NY) has said he is preparing to file a bill in the upper chamber soon.
"Last year, we saw more progress toward cannabis legalization than ever before. This has been driven by unprecedented reforms at the state level. Now, Congress must deal with the problems created by the failed federal policy of prohibition," said Rep. Blumenauer, founder and co-chair of the Congressional Cannabis Caucus in a press release. "With a strong base of support in the House and in the Senate, the table is set. It's past time that we stop federal interference with cannabis banking and research, as well as the terrible pattern of selective enforcement that has devastated communities of color. The MORE Act will help address all of these problems and more."
The MORE Act has three main provisions:
It removes marijuana from the Controlled Substances Act, making it legal at the federal level and clearing the way for states to legalize it at home.
It mandates that federal courts must expunge past marijuana convictions and allows them to hold resentencing hearings for those still behind bars or under non-custodial supervision.
It makes an effort to redress drug war wrongs and racially disparate enforcement by assessing a 5 percent sales tax on marijuana and pot products, which will be used fund three different grant programs for drug war victims, loans to small businesses "owned and controlled by socially and economically disadvantaged individuals," and to eliminate licensing and employment barriers for people "most adversely impacted" by drug prohibition.
The bill would also make legal marijuana businesses eligible for Small Business Administration funding, bar discrimination against people who use or possess marijuana (such as in federal housing) and require the Bureau of Labor Statistics to collect data on industry demographics to monitor how much poor people and minorities are actually participating in the industry.
"The MORE Act would not only decriminalize marijuana federally, but also take steps to address the harmful impacts of federal prohibition, particularly on communities of color," said Rep. Jackson Lee, Chair of the Subcommittee on Crime, Terrorism, and Homeland Security. "We need to pass the MORE Act as an important component of a broader effort to reform our drug laws, which disproportionately harm racial minorities and fuel mass incarceration. That is why I am also working to advance additional legislation to achieve comprehensive reform of our criminal justice system."
The Drug Policy Alliance (DPA) is part of a broad coalition of civil rights, criminal justice, drug policy, and immigration groups (155 organizations in all) that are backing the bill. It worked closely with Rep. Nadler on the original language of the bill last year and has been closely involved ever since.
"It is clear, by the overwhelming extent to which they passed the MORE Act last session, that the House understands this for the urgent racial and social justice issue it is," DPA Director of the Office of National Affairs Maritza Perez said in a statement. "Our communities that have borne the brunt of marijuana prohibition have waited long enough for justice. We urge House leadership to move swiftly to bring the bill back to the floor this session, so that we can continue the momentum and move a marijuana justice bill in the Senate as well."
Unsurprisingly, the Marijuana Policy Project (MPP) is also onboard.
"It's clear that Americans overwhelmingly support ending cannabis prohibition. Reintroducing the MORE Act is a powerful way to reorient negotiations around legalization that gives our entire nation the power to choose cannabis for medical and adult use, strengthens a blossoming industry that is creating jobs and fueling economic growth, and begins to rectify the harms of the racially motivated war on cannabis and its disproportionate impact on vulnerable communities through criminal justice reform and social equity initiatives, MPP Executive Director Steve Hawkins said in a statement. "We endorse this bill and urge Congress to pass it."
But the leader of the loudest anti-marijuana reform group in the country, Dr. Kevin Sabet, president of Smart Approaches to Marijuana, also unsurprisingly, thinks it's a bad idea.
"As we have said since the initial introduction of this short-sighted bill two years ago, the MORE Act is a complete non-starter and the wrong approach we need when it comes to federal drug policy," he said in a statement warning of Big Pot. "This bill would fully legalize marijuana; it will not simply decriminalize the drug -- which would only remove criminal penalties for possession. Rather, it's nothing less than the wide-scale commercialization and normalization of a drug that does not resemble the old marijuana of the 1970s."
It's pretty lonesome where Sabet is, though. The most recent Gallup poll had more than two-thirds (68 percent) favoring legalization and still trending up. Now, if somebody will just tell the Senate. And the president, who is so far standing firm not for legalization but for decriminalization. The question is: What will Biden do if he MORE Act lands on his desk?