Yet another study takes aim at the discredited "gateway theory," the Filipino president remains unrepentant and defiant over his record of drug war killings, and more.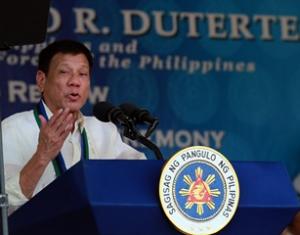 Marijuana Policy
(Another) Study Finds Marijuana Not a Gateway Drug. Once again, a peer-reviewed academic study has found that marijuana is not a gateway to harder drug use. The study by researchers at the University of Pittsburgh was published in the journal Health Economics and found that hospital admissions due to opioid use declined after marijuana was legalized at the state level, at least in the short term. "This isn't trivial – a decline in opioid-related emergency department visits, even if only for six months, is a welcome public health development," said study lead author Coleman Drake, an assistant professor in the university's department of health policy and management. The "gateway theory" that exposure to marijuana leads to the use of harder drugs has repeatedly been debunked, but still occasionally makes an appearance in the rhetoric of prohibitionists.
Arkansas Marijuana Legalization Initiative Campaign Getting Underway. A group of activists calling itself Arkansas True Grass is now gathering signatures aimed at putting a marijuana legalization initiative on the 2022 ballot. The initiative would legalize recreational marijuana and place its regulation under the authority of the state Agriculture Department. It would also expunge all prior marijuana convictions and allow for the cultivation of up to 12 plants at home. The initiative takes the form of a constitutional amendment, which raises its signature-gathering requirement from 71,321 for statutory initiatives to 89,151 for constitutional amendments. The group has until July 2022 to come up with signatures.
Harm Reduction
Maine Becomes First State to Roll Out Text Alerts When Overdoses Spike. The state has begun a pilot program that lets anyone with a cellphone receive free text messages alerting them to spikes in overdoses in their area and the possibility that a lethal batch of drugs is on the market. The Spike text program was rolled out last month and was first activated last week in Portland, when three people suffered overdoses in a 24-hour period. The program is a joint project of the state Department of Health and Human Services and the Partnership to End Addiction, a national nonprofit. Maine is the first state in the nation to roll out such a program. The move comes after the state saw 502 people die of drug-related causes last year, the most ever in the state.
International
Colombia Removes Ban on Exports of Marijuana Buds. In a bid to boost its nascent legal marijuana industry, Colombia last Friday lifted a ban on exporting dried marijuana flowers, opened the way to expand medical marijuana sales, and streamlined regulatory procedures. "This means Colombia can enter to play a big role in the international market," President Ivan Duque said after signing the decree loosening the rules, adding the new rules would allow Colombia's cannabis industry to expand into food and drinks, cosmetics and other sectors.
Philippines President Taunts International Criminal Court During Last State of the Nation Address. Filipino President Rodrigo Duterte, who proudly and publicly launched a murderous war on drug users and sellers when he took office in 2016, used the occasion of his last State of the Nation address to lash out at the International Criminal Court (ICC). The ICC has completed a preliminary investigation of human rights abuses in the Philippines drug war and has now requested an authorization to do a formal investigation, with Duterte clearly in the headlights. In his speech, Duterte dared the ICC to record his threats against those who would "destroy" the country, saying: "I never denied – and the ICC can record it – those who destroy my country, I will kill you. And those who destroy the young people of my country, I will kill you, because I love my country." Duterte said. He added that pursuing anti-drug strategies through the criminal justice system "would take you months and years" and again told police to kill drug users and dealers. The Un High Commissioner for Human Rights has tallied at least 8,663 drug killings since the start of the anti-drug campaign, but human rights groups say the number could be as high as 30,000 if killings by shadowy vigilante groups are included.