Senate Majority Leader Charles Schumer (D-NY) and his colleagues Senate Finance Committee Chair Ron Wyden (D-OR) and Senator Cory Booker (D-NJ) rolled out an initial draft of their legislation to end federal marijuana prohibition, the Cannabis Administration and Opportunity Act.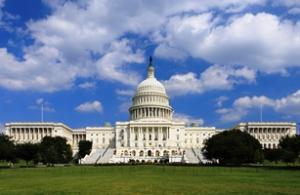 Similar legislation, the Marijuana Opportunity Reinvestment and Expungement Act (
HR 3617
), sponsored by House Judiciary Committee Chair Jerry Nadler (D-NY) is pending in the House, but prospects for the Senate bill are hazy. It would need 60 votes to pass, no Republicans have spoken in favor of it, and it is not even clear that all Democrats would vote for it.
And even if it were to pass, moments after a Wednesday press conference announcing the bill, White House Press Secretary Jen Psaki told reporters had opposed marijuana legalization in the past and "nothing has changed."
Still, the Senate Majority Leader putting his name on a marijuana legalization bill is a big deal, a sign of how far the issue has come.
According to a summary of the 163-page draft bill, the measure would remove marijuana from the Controlled Substance Act and shift regulatory authority over it from the Drug Enforcement Administration to the Food and Drug Administration. Each state would determine its own marijuana policies, and federal criminal penalties would remain for growing, possessing, or distributing more than 10 pounds in violation of state or federal law.
The bill would set the legal age for purchase at 21 and limit purchases to 10 ounces "to prevent illegal actors from purchasing large quantities of cannabis at retail in a cannabis-legal state and illegally trafficking that cannabis into other states with the purpose of circumventing state-level laws relating to the sale, production, or taxation of cannabis."
The measure addresses social equity concerns by creating three grant programs -- one in the Justice Department and two in the Small Business Administration (SBA) -- to channel resources to people and communities adversely impacted by marijuana prohibition. The SBA grants to states and localities will be conditioned on the passage of state laws that expunge previous marijuana convictions.
The bill also calls for the automatic expungement of non-violent federal marijuana convictions and would give people currently serving federal sentences for marijuana convictions a sentencing review hearing that would essentially set them free: "After the sentencing hearing, courts shall expunge each arrest, conviction, or adjudication of juvenile delinquency for a non-violent federal cannabis offense, vacate the existing sentence or disposition of juvenile delinquency, and seal all records relating to a conviction or adjudication that has been expunged."
The act would see marijuana commerce federally taxed and regulated, with federal taxes beginning at 10% in year one and increasing to 25% by year five. In a boost to small producers, the first $20 million in sales would be eligible for a 50% rebate.
"I am proud to introduce our discussion draft of the Cannabis Administration and Opportunity Act, a legislative proposal aimed at finally putting an end to the federal prohibition of cannabis and addressing the over-criminalization of cannabis in a comprehensive and meaningful way," said Majority Leader Schumer in a statement announcing the bill. "The War on Drugs has too often been a war on people, and particularly people of color. Not only will this legislation remove cannabis from the federal list of controlled substances, but it will also help fix our criminal justice system, ensure restorative justice, protect public health, and implement responsible taxes and regulations."
"Cannabis prohibition, a key pillar of the failed War on Drugs, has caused substantial harm to our communities and small businesses, and especially for communities of color," said Senate Finance Committee Chair Wyden. "It's as simple as this: Senators Booker, Schumer and I want to bring common sense to the federal government, end prohibition and restore the lives of those hurt most and set them up for opportunity."
"For decades, our federal government has waged a War on Drugs that has unfairly impacted low-income communities and communities of color," said Senator Booker. "While red and blue states across the country continue to legalize marijuana, the federal government continues to lag woefully behind. It is time for Congress to end the federal marijuana prohibition and reinvest in communities most impacted by the failed War on Drugs. I am proud to introduce this landmark piece of legislation with Senator Wyden and Majority Leader Schumer that will finally turn the page on this dark chapter in American history and begin righting these wrongs."
Marijuana and drug reform activists were generally pleased, although there were some quibbles. And since this is a first draft, now is the time for those quibbles to be heard.
"The days of federal prohibition are numbered," said NORML Executive Director Erik Altieri in a statement, adding that "the supermajority of Americans are demanding that Congress take action to end the cruel and senseless policy of federal prohibition."
"For justice reform, for equity, for individual liberty, and countless other reasons, it is time to respect the will of the American people and legalize cannabis. I am heartened by the Booker, Schumer, Wyden bill draft, which is a promising first step towards Senate passage, and hopeful that it will lead to negotiations and bipartisan support for an inclusive and equitable legal cannabis industry," said Steven Hawkins, executive director at the Marijuana Policy Project, in a statement.
But the Drug Policy Alliance, while pronouncing itself "grateful" for the bill emphasizing social equity, reparative justice and reinvestment, said in a statement more work needed to be done.
"[W]ork remains to ensure justice does not fall short, said Maritza Perez, Director of the Office of National Affairs for DPA. "To our dismay, the Senate draft contains exclusionary language that ended up getting added to the House-passed MORE Act last year that would continue to subject federal employees to drug testing and deny certain individuals -- who have already paid the highest price -- the opportunity to expunge their records. In order for this bill to truly end marijuana prohibition in a comprehensive way and begin to repair the egregious harms of the past, we cannot continue to make room for some to be left out because of laws that were unjust and racist to begin with. We call on the House to remove exclusionary language from the MORE Act and swiftly pass the bill and implore the Senate to also remove this language ahead of bill introduction."
The wall of federal marijuana prohibition may or not fall this year, but its foundations are rapidly decaying, and the issue is squarely before the Congress.