A Texas Border Patrol agent waves the cocaine-laden car through, a Florida deputy is headed to prison for planting dope on innocent drivers and arresting them, and more. Let's get to it: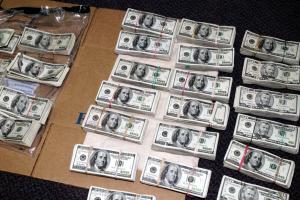 In McAllen, Texas,
a Border Patrol agent was arrested last Thursday
for allegedly trying to aid and abet cocaine smuggling through a Border Patrol checkpoint. Agent Oberlin Cortez Pena, Jr., 22, is accused of accepting $1,000 cash to let a vehicle with at least five kilos of cocaine through the Falfurrias checkpoint. He faces up to 10 years in federal prison if convicted of drug trafficking conspiracy.
In Portsmouth, Ohio, a Scioto County jail guard was arrested last Friday for smuggling drugs and tobacco into the facility. Guard John Aeh went down after someone informed authorities, and a subsequent sweep of the jail turned up 17 grams of heroin or fentanyl and two grams of methamphetamine. He is charged with one count of conspiracy, one count of trafficking drugs and one count of conveyance into a detention center, all of which are felonies.
In Henderson, Kentucky, a Henderson County jail guard was arrested Monday for smuggling drugs into the facility. Deputy Jailer Jason Evans, 47, went down after an investigation by the Pennyrile Narcotics Task Force. He had been approached by an inmate and agreed to smuggle meth and tobacco into the jail in return for $200. He got caught with the package before he could hand it off. The exact charges he faces were not specified.
In Marianna, Florida, a former Jackson County sheriff's deputy was sentenced Tuesday to 12 ½ years in prison for fabricating evidence and arresting innocent people. Zachary Webster was found guilty of 19 charges in cases where he planted drugs on people. He was convicted of racketeering, three counts of official misconduct, three counts of perjury, three counts of fabricating evidence, four counts of possession of a controlled substance, three counts of possession of drug paraphernalia, and two counts of false imprisonment.