Marijuana legalization didn't make into New York's draft budget proposal, Netherlands cannabis cafes reopen for carryout only, DC psychedelic decriminalization activists find creative ways to seek signatures, and more.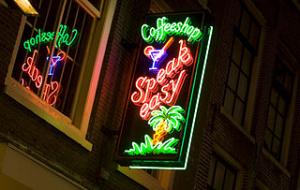 Marijuana Policy
Illinois Push to Allow Marijuana Deliveries. State Rep. Sonya Harper (D-Chicago) last month filed HB 5274, which would allow for both medical and recreational marijuana deliveries. Now, she is pushing Gov. JB Pritzker (D) to take action to speed the process in the face of the COVID-19 pandemic. "I would be happy to see if the governor maybe could make a special executive order allowing that, or us being able to get that legislation through maybe quicker than normal this year to provide for that," she said. The state is already allowing curbside pickup of customer orders.
New York Marijuana Legalization Likely to Fall Victim to Coronavirus Pandemic. A draft state budget report does not include marijuana legalization, which Gov. Andrew Cuomo (D) had sought prior to the arrival of the COVID-19 pandemic in the state. Instead the draft budget says that the "Adopted Budget omits the Executive proposal to legalize adult use cannabis." While achieving legalization through the budget process would be the easiest way to get it done, it could still be done through separate legislation, but that path is more difficult.
Psychedelics
DC Psychedelic Decriminalization Campaign Explores Options. Decriminalize Nature DC, the group behind a psychedelic decriminalization initiative aimed at the November ballot, has been forced to suspend conventional signature gathering because of the COVID-19 pandemic, so now the campaign is looking at other options, including "micro-scale petition signature collection." The campaign would mail petitions to supporters, who could collect signatures from "registered DC voters in their immediate vicinity, such as family, roommates, friends and close-by neighbors" and then return the petitions to campaign headquarters.
International
Dutch Cannabis Cafes Reopen, But Only for Carryout. Cannabis cafes were among the many businesses shut down by the Dutch government in response to the COVID-19 pandemic on March 15. They have now been allowed to reopen, but only for carryout orders. Dutch authorities made the move to avoid driving marijuana sales underground to an unregulated black market.