Marijuana retail outlets stay open in Denver and Amsterdam after pandemic-inspired efforts to shut them down inspire long lines, drug reform and public health groups urge governors to keep medical marijuana dispensaries open, and more.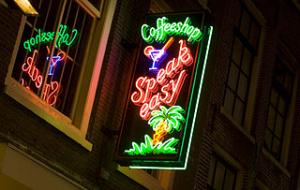 Marijuana Policy
Denver Mayor Announces Liquor Stores and Pot Shops Have to Close but Forced to Backtrack in Face of Large Crowds. Denver Mayor Michael Hancock (D) announced Monday afternoon that marijuana shops and liquor stores would have to close their doors in response to the coronavirus pandemic but was forced to reverse course later that same day. In response to his announcement, city residents began swarming liquor stores and pot shops -- violating social distancing requirements -- sometimes with lines a block long, forcing the mayor to reconsider. Now, the booze and pot shops can stay open, but must enforce physical distancing requirements.
Medical Marijuana
Public Health, Drug Reform Groups Urge Governors to Deem Medical Marijuana Dispensaries as "Essential" Businesses. A dozen public health and drug reform organizations have sent an open letter to every governor in the country, urging them to recognize medical marijuana as a necessary medicine, and to declare dispensaries "essential" businesses that can stay open during periods of reduced movement related to the coronavirus pandemic. Signatories include the Drug Policy Alliance, the Marijuana Policy Project, NORML, and the Harm Reduction Coalition, as well as public health groups.
Psychedelics
Denver Psychedelic Reform Panel Holds Second Meeting. The Denver Psilocybin Mushroom Policy Review panel -- the nation's first such entity -- held its second meeting Tuesday and reached agreement on criteria for law enforcement reporting on activities related to the 'shrooms. Data collected should include age, location of offense, the offense itself (possession, distribution, cultivation), the quantity involved, race, and whether a prosecution ensued, among other things.
International
Holland Reopens Cannabis Cafes Just A Day After Closing Them in Coronavirus Move. The Dutch government on Monday night abruptly reversed a day-old decision to shut down the country's famous cannabis cafes as part of a social distancing response to the coronavirus pandemic. The reversal came as the government was confronted with long lines of people queuing up to score after the ban was initially announced. Now, the cannabis cafes can stay open for carryout purchases only. There was no respite, however, for Amsterdam's sex clubs and brothels. They will have to stay shuttered until April 6.