The Year of Dangerous Days: Riots, Refugees, and Cocaine in Miami 1980 by Nicholas Griffin (2020, Simon & Schuster, 318 pp., $26.99 HB)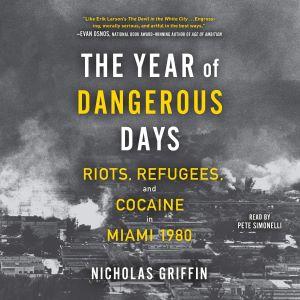 In this, of all years, that a book like
The Year of Dangerous Days
should make an appearance seems apropos. As we live our own year of dangerous days, with pandemic, economic disruption, and streets simmering over police violence, especially aimed at Blacks, this is a tale of Florida's glittering jewel living through a similar three-pronged existential crisis.
It is both fast-paced thriller and thoughtful meditation on race, class, immigration, crime, and the role of cocaine in violence and corruption. We're still grappling with all those issues that beset Miami 40 years ago, a sad truth that doesn't reflect too favorably, but perhaps leaves some room for lessons to be learned.
In Dangerous Days, Miami resident and veteran author Nicholas Griffin takes us to 1970s Miami, or rather, the three Miamis: Anglo, Black, and Hispanic. With the city becoming increasingly Spanish-speaking thanks to the influx of Cuban refugees after Fidel Castro's revolution came to power in 1959, Whites were grumbling about speaking English in America, damn it! -- while Blacks were feeling displaced, left behind, and tired of heavy-handed policing and the Cubans were mainly flexing their growing political power as right-wing anti-communist extremists devoted to restoring their ancien regime 90 miles across the Caribbean in Havana.
The up-and-coming Sunbelt city was presided over by a charismatic, visionary Puerto Rican mayor, Maurice Ferre -- the city's first Latino mayor -- whose family construction business fueled its fortune by supplying the concrete that helped build the I-95 freeway through the heart of Overtown, the city's Black commercial and social soul back in 1965. That act of "urban renewal" drove thousands of displaced black residents into Liberty City, the nation's first public housing project, where tensions festered throughout the 1970s.
Ferre's vision for Miami was as a southward-facing city keyed to the economies of Latin America -- and it worked. Foreign banks piled into the city, Latin American tourism and home-buying boomed, and Miami soon earned the sobriquet "the capital of Latin America" as flight capital from Central and South American countries. But capital flight alone couldn't account for the massive, multi-billion dollar surpluses showing up in the Miami Federal Reserve bank at the time. That money was cocaine cash.
The laundered cash from cocaine sales took place quietly and largely unnoticed -- at least at first -- but the violence unleashed by Colombian drug traffickers in Miami was another story. The July 1979 Dadeland Mall Massacre put those gunmen on the map, and repeated brazen broad daylight killings by Colombian hitmen finally got the attention of Miami police, although they remained bewildered by just who they were dealing with. (And the homicide unit in particular remained hampered by the fact that a third of its detectives went down in a cocaine corruption bust engineered by the FBI.)
Griffin follows an eventual joint federal-local investigation into cocaine money-laundering, Operation Greenback, as its operatives watch a key Colombian money-launderer literally carrying duffle bags full of cash to a series of all-too-welcoming banks on a daily basis. And he follows the efforts of Miami police and prosecutor Janet Reno to actually arrest and convict their first Colombian hitman. Here's where the book most resembles a police procedural.
From a drug policy perspective, Griffin is not great. For him, that cocaine is illegal is unquestioned, and the role of its illegality in generating both violence and black-market profits in the billions goes largely unmentioned. He does mention that if cocaine were legal, that money launderer would just be considered a hard-working professional, but he leaves it at that.
At least Mayor Ferre acknowledged the role of cocaine capital in helping build the city: He called the illicit drug trade "a depravity of the human soul," but then went on to say that "from the economic point of view, once the money goes to the bank and gets deposited, and is loaned out to build more condominiums, well, money is money."
Miami's 1980 cocaine crisis was, of course, only part of the city's struggle that year. After Dade County police beat Black motorcyclist Art McDuffy to death in late 1979, the city's Black community seethed with anger, and when an all-White jury in Tampa cleared the killer cops of any criminal liability, Liberty City exploded in some of the worst race riots of the past half-century. Over three days in May, the destruction left 10 Blacks and eight Whites dead and at least $80 million in property damage before the flames died down. Griffin details the trajectory of this disaster in fine form.
At the same time, tensions over immigration exploded when Fidel Castro responded to pressure (from within and without) to let disaffected Cubans leave the island by opening the doors to a flotilla of boats piloted by Miami Cubans gone to rescue their family members. This resulted in the Mariel boatlift, in which more than 100,000 Cubans were ferried to Miami. But Castro had the last laugh, using the boatlift to dump thousands of prisoners, mental patients, and other "anti-social elements" on Florida.
Between the cocaine cowboys, the racial tensions that exploded in Liberty City, and the radical demographic shift heralded by the Marielitos, 1980 was indeed a watershed year for Miami. Nicholas Griffin turns the tangled tales of triple trouble into an eminently readable and illuminating tale, even if he doesn't provide us with a scathing critique of the results of cocaine prohibition.