It looks like coronavirus has killed marijuana legalization in New York this year, a new nonprofit focused on psychedelic education has emerged, a nonviolent drug offender is the first federal prisoner to die of COVID-19, and more.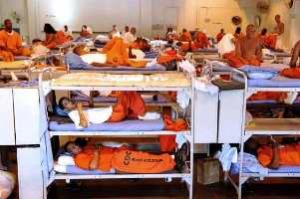 Marijuana Policy
Massachusetts Advocates Call on Governor to End Ban on Recreational Marijuana Sales. Marijuana legalization advocates, doctors, and Cannabis Control Commission member Shaleen Title are calling on Gov. Charlie Baker (R) to end his ban on recreational marijuana sales because of the COVID-19 pandemic. Most other legal marijuana states are allowing some form of sales. Baker has argued that because Massachusetts is one of the only states in the region that allows recreational marijuana sales, leaving the stores open would attract traffic from other states.
New York Governor Says Marijuana Legalization Won't Be in Budget. Gov. Andrew Cuomo (D) said Tuesday the state is not likely to legalize marijuana as part of its budget process, dramatically reducing the likelihood that such a measure will pass this year. Cuomo had pushed for inclusion in the budget, but with the budget deadline looming and the state in the grip of the COVID-19 pandemic, Cuomo said legalization wasn't likely.
Incarceration
First Known Federal Inmate, a Nonviolent Drug Offender, Dies of Coronavirus. The US Bureau of Prisons (BOP) has confirmed that a federal prisoner had died from COVID-19. That is the first known coronavirus death in the federal system. He was identified as Patrick Jones, 49, who was serving a 27-year sentence for a nonviolent drug crime. He was doing time at a low-security federal prison in Oakdale, Louisiana. Fourteen other prisoners and 13 staff members are also infected by the virus.
Federal Bureau of Prisons Orders Prisoner Lockdown. The BOP announced Tuesday that it is moving to Phase Five of its COVID-19 Action Plan, which means all federal prisoners will be confined in their cells for the next 14 days to slow the spread of the virus. The move comes "in response to a growing number of quarantine and isolation cases in our facilities," the BOP said. The BOP also said it is coordinating with the US Marshals Service to "significantly decrease" the arrival of new prisoners. BOP said it would reevaluate after 14 days.
California to Release 3,500 Prisoners Early as COVID-19 Spreads in State Prisons. Lawyers for the state told a panel of federal judges Tuesday the state is taking "extraordinary and unprecedented protective measures" to slow the spread of the virus, including plans to accelerate release and parole dates for 3,500 inmates serving terms for nonviolent crimes and already due to be released within 60 days. The releases are to be conducted "within the next several weeks." The state has already been locking down cell blocks where prisoners exhibit flu-like symptoms.
Psychedelics
Denver-Based Nonprofit Launches National Organization to Educate Public and Develop Leadership in Psychedelic Ecosystem. The Society for Psychedelic Outreach, Reform, and Education ("SPORE") announced today its nonprofit status as an organization that envisions a world where everyone has safe and responsible access to psychedelics, including psilocybin mushrooms. SPORE was founded by two proponents of the Denver Psilocybin Initiative, Kevin Matthews and Matthew Duffy, to educate the public and develop leadership in the rapidly growing psychedelic ecosystem to support human wellbeing. The group is being sponsored by the nonprofit group Reconsider and a $50,000 donation from Dr. Bronner's Magic Soaps.