The House of Representatives voted overwhelmingly Wednesday to approve the SAFE Banking Act (HR 1595), which would allow state-legal marijuana businesses to get access to banking and other financial services.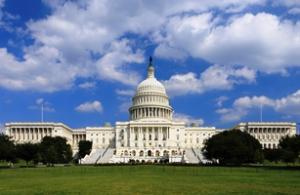 The vote was 321-103, with near unanimous support from Democrats, as well as nearly half of Republicans. The industry pronounced itself pleased.
"We applaud the House for approving this bipartisan solution to the cannabis banking problem, and we hope the Senate will move quickly to do the same, " said Neal Levine, CEO of the Cannabis Trade Federation, which lobbied in support of the bill. "This vital legislation will have an immediate and positive impact, not only on the state-legal cannabis industry, but also on the many communities across the nation that have opted to embrace the regulation of cannabis. Allowing lawful cannabis companies to access commercial banking services and end their reliance on cash will greatly improve public safety, increase transparency, and promote regulatory compliance. "
The vote came although some civil rights and drug reform groups had called for it to be put off until more comprehensive marijuana or criminal justice reform could be enacted. They argued that passage of a narrowly targeted financial services bill could erode momentum toward broader reforms.
The Drug Policy Alliance (DPA) was one of those groups. In a statement released after the vote, the group said it had no problem with the banking bill but wanted more.
"We had no objections to the substance of the SAFE Banking bill. However, DPA and allies from the civil rights community sent a letter of concern because we believe it is a mistake for the House to pass an incremental industry bill before passing a comprehensive bill that prioritizes equity and justice for the communities who have suffered the most under prohibition, " said Queen Adesuyi, Policy Coordinator at DPA's Office of National Affairs.
DPA is pushing for passage of the MORE Act, which would federally deschedule marijuana.
"We have long feared that passing SAFE Banking would undermine passage of the MORE Act by taking the momentum out of marijuana reform, " said Adesuyi. "The onus is now upon House Democrats to prove us wrong and pass the MORE Act. We are encouraged by the announcement from House Judiciary Chairman Jerry Nadler that he intends to hold a vote on MORE and will push him in the coming weeks to commit to a date. We also thank Majority Leader Hoyer for his commitment to work with Mr. Nadler and others to advance broader marijuana reform in this Congress. The marijuana banking bill cannot be the end of the road for marijuana reform this Congress. "
But even the banking bill must get through the Senate, where it is not clear it can pass. A companion version of the SAFE Banking Act (S.1200) was introduced in April by Sens. Jeff Merkley (D-OR), Cory Gardner (R-CO) and a bipartisan group of 21 original cosponsors. It currently has 33 total cosponsors. Earlier this month, Senate Banking Committee Chairman Mike Crapo (R-ID) said his committee will take up the cannabis banking issue this year and is working on preparing a new bill.
"This is a serious public safety matter that needs to be addressed by Congress this session, " Levine said. "It is only going to grow in urgency and magnitude as states continue to roll back cannabis prohibition policies. Enacting the SAFE Banking Act would greatly bolster state's efforts to promote safety, regulatory compliance, and equity within the cannabis industry. Cannabis-related companies are lawfully operating in states around the country, and they deserve the same access to banking that is afforded to every other type of lawful business. "