In the most thorough review yet of the powerful synthetic opioid fentanyl, a new study from the RAND Corporation warns that its arrival heralds a new dynamic in illicit drug markets -- and that is going to require new approaches for dealing with the dangerous drug.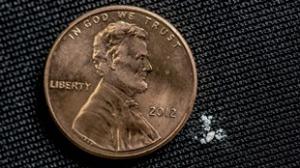 Last year, the Centers for Disease Control and Prevention (CDC) linked the synthetic opioid, which is roughly 50 times as powerful as heroin, to
more than 31,000 overdose deaths last year
, a little less than half of all drug overdose deaths registered in 2018, and the most people killed by a single drug in a single year in United States history.
Those fentanyl-linked deaths were 10 times the number of synthetic opioid deaths just five years ago. That's because a reliable supply chain has been established. Whether it's coming via DHL or Fedex packages ordered on the dark web direct from under-regulated Chinese pharmaceutical labs or being cooked up from precursor chemicals in informal Mexican labs and then smuggled across the border, fentanyl is pouring into the country.
In addition to its extreme lethality, what makes the rise of fentanyl different from previous drug epidemics is that very few users seek it out. Only the heaviest opioid users with the highest tolerance levels might seek fentanyl. The drug is here, rather, because it works better for drug dealing syndicates. It is cheap and relatively easy to produce, it does not require the control of extensive territories to produce drug crops, and because it is so potent, massive quantities of the drug can be smuggled in small packages, making it more attractive to traffickers.
"This crisis is different because the spread of synthetic opioids is largely driven by suppliers' decisions, not by user demand," RAND researcher Bryce Pardo, lead author of the study, said in a press release. "Most people who use opioids are not asking for fentanyl and would prefer to avoid exposure."
The fentanyl crisis is largely regional, the RAND researchers found. Deaths related to the drug are clustered in Appalachia, the mid-Atlantic and New England.
"While synthetic opioids have not yet become entrenched in illicit drug markets west of the Mississippi River, authorities must remain vigilant," said Jirka Taylor, study coauthor and senior policy analyst at RAND. "Even delaying the onset in these markets by a few years could save thousands of lives."
While the RAND report said "nontraditional strategies may be required" to address fentanyl, it did not make any specific policy recommendations. Instead, the authors urged consideration of a number of innovative approaches, many of which are tenets of harm reduction. They include:
supervised consumption sites (or safe injection sites)
drug content testing
providing prescription heroin to addicts (heroin-assisted treatment)
creative supply disruption
"Indeed, it might be that the synthetic opioid problem will eventually be resolved with approaches or technologies that do not currently exist or have yet to be tested," said Beau Kilmer, study coauthor and director of the RAND Drug Policy Research Center. "Limiting policy responses to existing approaches will likely be insufficient and may condemn many people to early deaths."
In other words, traditional drug war strategies when it comes to fentanyl are not only unlikely to succeed, but people will die. While tough-on-drugs politicians and prosecutors are quick to embrace harsher penalties, the researchers note there is little reason to believe tougher sentences, such as drug-induced murder laws applied to low-level retailers and couriers, will make any difference.
On the other hand, RAND does advocate for short but swift punishments as a deterrent. The one supply-side intervention RAND discussed in this report is efforts to disrupt dark web drug marketing of fentanyl, because the market is driven by suppliers, not users. "It makes sense," they wrote, "to consider supply disruption as one piece of a comprehensive response, particularly where that supply is not yet firmly entrenched."
That's particularly urgent, the researchers explained, because their study, which also examined fentanyl outbreaks in other countries, found that once the drug gains a prominent place in a local drug market, it doesn't go away.
But fentanyl is clearly already entrenched in parts of the US. The RAND report points the way to smarter approaches to dealing with the crisis -- approaches that focus on saving lives.
This article was produced by Drug Reporter, a project of the Independent Media Institute.