It looks like the thousands of lawsuits against Purdue Pharma over Oxycontin are about to be settled, a new audit finds California's unlicensed pot shops greatly outnumber licensed ones, Florida's attorney general seeks to block a marijuana legalization initiative, and more.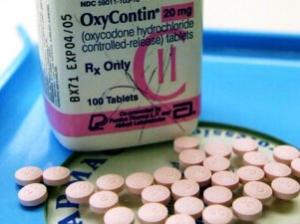 California's Legal Pot Shops Are Outnumbered Three-to-One by Black Market Ones
. According to an audit conducted by the United Cannabis Business Association, there are more than three times as many unlicensed marijuana shops as there are regulated ones. The audit found about 2,850 unlicensed dispensaries and delivery services, compared to only 873 licensed sellers in the state. The audit was based on Weedmaps listings. Fewer than 20% of California cities allow regulated pot shops, and though many large cities, including Los Angeles, San Diego, and San Francisco, do allow them, unlicensed dispensaries proliferate there as well. Earlier this year, Weedmaps showed 220 unlicensed pot shops in Los Angeles, compared to only 187 licensed ones.
Florida Attorney General Challenges Legalization Initiative. State Attorney General Ashley Moody (R) is challenging a proposed constitutional amendment that would legalize marijuana in the state… on the grounds that it is too detailed. The amendment is 10 pages long. "There is no way 10 pages of the law can be summarized clearly in 75 words or less and would adequately convey to the voters what exactly they will be voting on," the attorney general said. There are two significant legalization initiative campaigns underway in the state; the one Moody is challenging is the "Regulate Marijuana in a Manner Similar to Alcohol to Establish Age, Licensing, and Other Restrictions" initiative. Now it will be up to the state Supreme Court to determine whether the initiative comports with the legal requirements.
New Mexico Task Force Opposes State-Run Pot Shops. Gov. Michelle Lujan Grisham's (D) Cannabis Legalization Working Group, which is looking at regulatory options for marijuana legalization, has come out against state-run marijuana stores. Instead, it is endorsing a system of licensing commercial entities. The working group also recommends barring local governments from banning pot shops, although they would be allowed to impose zoning and similar restrictions.
Medical Marijuana
Ohio Medical Board Rejects Anxiety, Autism as Qualifying Conditions. The State Medical Board voted Wednesday to reject adding anxiety and autism spectrum disorder to the state's list of qualifying conditions for the use of medical marijuana. Earlier this year, the state's Medical Marijuana Expert Review Committee recommended adding the conditions, but the board overruled them. It did say it might revisit the issue later "if additional studies or evidence are brought forth in the petition process."
Heroin and Prescription Opioids
Purdue Pharma, Sackler Family Agree to Oxycontin Settlement. Purdue Pharma and the Sackler family have reportedly agreed to a tentative settlement of thousands of lawsuits filed by states and other localities over the role of Oxycontin in the current opioid epidemic. According to news reports, Purdue will file for bankruptcy and effectively dissolve, while a new company will form and continue selling Oxycontin, with the revenues going to the plaintiffs in the lawsuit settlement. The deal is expected to be worth between $10 and $12 billion, including $3 billion from the Sackler family, the owners of Purdue.
International
Philippines Refuses to Grant UN Access to Investigate Bloody Drug War. The Philippines will not allow visits by the United Nations to investigate its brutal war on drugs, Foreign Minister Teodoro Locsin said Wednesday. He called the UN experts "bastards" who had already prejudged his country. Asked if UN investigators should be allowed to work in the country, he said: "No. Because they have already prejudged. I already said those bastards -- especially that woman acting like the queen in Alice in Wonderland -- first, the judgment, then the trial. No." That was a reference to Agnes Callamard, the UN special rapporteur on extrajudicial, summary and arbitrary executions, who has been a staunch critic of Filipino President Rodrigo Duterte.