New Jersey and New York efforts to legalize marijuana this year are faltering, New Jersey expands its medical marijuana system, USAID sends $160 million to Colombia, and more.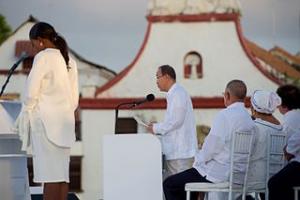 Marijuana Policy
Illinois Legalization Bill Could Remove Home Cultivation. The marijuana legalization bill filed last week, SB 002, may see its home cultivation provision stripped out in a bid to appease critics, bill sponsor Sen. Heather Steans (D) has confirmed. Illinois NORML said if that happens, it will have to reconsider whether to support the bill.
New Jersey, New York Marijuana Legalization Bills Stalled. In both states, efforts to get a legalization bill through this year appear to have run out of steam. When New Jersey was unable to gets its bill through in March, that took pressure off of neighboring New York, and now momentum has stalled there, too.
Cincinnati Moves to Decriminalize Marijuana Possession. The city council on Wednesday voted to decriminalize the possession of marijuana. The council approved two separate measures, one that would decriminalize up to 200 grams, the other that would decriminalize up to 100 grams. There would be no fine or jail time, but the person would be guilty of a "minor misdemeanor" of marijuana possession even though the ordinance says that doesn't "constitute a criminal record." A final vote on the possession limit will come later.
Medical Marijuana
Democratic Presidential Candidate Seth Moulton Files Three Veterans' Medical Marijuana Bills. Rep. Seth Moulton (D-MA), who recently announced he is seeking the Democratic presidential nomination, filed three House bills concerning medical marijuana for military veterans on Friday. The bills are identical to ones he has filed in the past. One would direct the VA to survey marijuana use by vets, a second would require the VA to train doctors and other primary care providers in the therapeutic use of marijuana, while the third would direct the VA to create a medical marijuana policy.
Maryland Governor Signs Bills Allowing Edibles. Gov. Larry Hogan (R) on Monday signed into law a bill legalizing edible medical marijuana products. That should lead to increased sales in the state's dispensaries.
New Jersey to Expand Medical Marijuana Program. Starting next week, the Health Department has new legal authority to expand the supply and demand for medical marijuana in the state. The department will be able to create a permit-granting system that splits the industry between growers, manufacturers and retailers. That should open the door to smaller players, help the industry grow, and generate more medicine. Also, the health commissioner will be empowered to add qualifying medical conditions. This does away with the cumbersome Marijuana Review Panel.
Hemp
Iowa Governor Signs Hemp Bill. Gov. Kim Reynolds (R) on Monday signed into law SF 599, which legalizes hemp production in the state. She warned, however, that the measure "does not legalize the sale or manufacturing of…CBD."
Foreign Policy
US Announces Funding for Colombia Peace Process. The US Agency for International Development announced Monday that it will provide $160 million in funding to Colombia to help implement the historic peace accord signed between the state and now-disarmed FARC rebels. "These funds are destined for important work, for the implementation of peace, to promote reconciliation, to help rural communities, to improve security for citizens and to strengthen the protection of human rights," said US AID Administrator Mark Green.
International
St. Kitts And Nevis Court Rules Adults Can Legally Use Marijuana in Private. The Eastern Caribbean Supreme Court has ruled that parts of the country's drug laws regarding marijuana unconstitutionally infringe on citizens' privacy and religious freedom rights. The ruling makes it legal for Rastafaris to use marijuana for religious purposes. The court has given the government of the two-island Caribbean nation 90 days to "remedy these constitutional defects."
(This article was prepared by StoptheDrugWar.org's 501(c)(4) lobbying nonprofit, the Drug Reform Coordination Network, which also pays the cost of maintaining this web site. DRCNet Foundation takes no positions on candidates for public office, in compliance with section 501(c)(3) of the Internal Revenue Code and does not pay for reporting that could be interpreted or misinterpreted as doing so.)