As the marijuana business comes out of the shadows and into the legal marketplace, jobs in the legal industry are coming with it -- by the hundreds of thousands, with more on the way. In fact, the legal marijuana business is forecast to see the greatest increase in demand of any profession over the next ten years.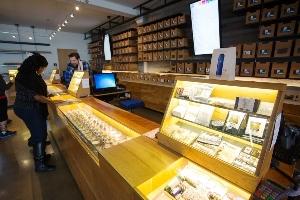 That's according to the marijuana information clearing house Leafly, which crunched the numbers in its recently-released
Special Report: 2019 Cannabis Jobs Count
. That report finds that legal marijuana has already created 211,000 full-time jobs, with more than 64,000 added last year alone, and tens of thousands more being created this year.
The marijuana workforce increased 21 percent in 2017, jumped by another 44 percent last year, and Leafly expects at least another 20 percent growth this year. That's a more than doubling of the industry workforce in just three years.
By way of comparison, the Bureau of Labor Statistics recently listed the industries with the fastest job growth prospects. Home health care aide positions are expected to jump 47 percent, while openings for wind turbine technicians and solar voltaic installers are expected to double. But that's in the next 10 years; the marijuana industry did it in three.
Because marijuana remains federally illegal, the Bureau of Labor Statistics doesn't count pot jobs. That left Leafly's data team, working in conjunction with Whitney Economics, to come up with the numbers. They did so using state-reported data, industry surveys, on-the-ground reporting, Leafly's own proprietary data, and economic formulas devised by Whitney.
The upward jobs trend is likely to continue for years to come, rolling through the individual states as they embrace medical marijuana and recreational legalization. So far, 34 states have some form of legal medical marijuana, but only ten have achieved full-blown legalization, so the medium-term job creation potential is substantial.
We can see this playing out in the legal states. Early legalizers Colorado and Washington saw double-digit jobs growth last year -- 17 percent and 26 percent, respectively -- but these numbers actually represent a plateau as their legal markets mature. Triple-digit job growth figures are common as states come online. In Florida, when medical marijuana dispensaries opened up last year, the state added more than 9,000 pot jobs, a stunning increase of more than 700 percent.
The Sunshine State wasn't alone in seeing huge job increases last year. Nevada added more than 7,500 jobs, Pennsylvania went from 90 pot jobs to nearly 4,000, and New York nearly tripled the number of full-time positions. By year's end more than 5,000 New Yorkers worked in the industry.
This year, Leafly predicts the biggest harvest of new jobs in the industry will come in California, where hiring was flat last year because of disruptions caused by the shift from the unlicensed medical system to tightly regulated adult-use legalization. The Golden State should see 10,000 new cannabis jobs, bringing total employment to around 60,000.
Massachusetts, where the adult-use market is just getting started, is set to add some 9,500 positions, while Florida's rollout of medical marijuana should see jobs there increase by 5,000 this year, bringing the total for the state to 15,000. In Oklahoma, there were no legal marijuana jobs in 2018, but with the November 2018 victory of a medical marijuana initiative, there are more than 2,100 jobs now, which should more than double to 4,400 by year's end. Similarly, in Arkansas, where the first dispensary is set to open any day now, the number of industry positions is expected to go from 135 now to nearly a thousand before the year is up.
Now, just imagine what happens when states such as Connecticut, Illinois, New Jersey, and New York manage to actually get legalization bills through the legislature. The jobs will follow in a wave that will eventually make its way to the last stubborn prohibitionist holdouts in places like South Carolina and South Dakota. The marijuana job boom isn't ending; it's just getting underway.
This article was produced by ​Drug Reporter​, a project of the Independent Media Institute.