Soon, Mainers will finally be able to buy and sell legal marijuana, the House passes an amendment to block an asset forfeiture end-run for local law enforcement, and more.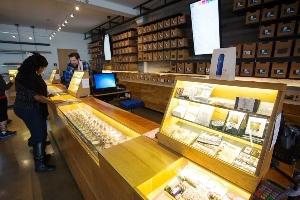 Maine Governor Says Says She Intends to Sign Law to Allow Marijuana Sales
. Gov. Janet Mills (D) said last Friday she plans to sign a law setting up a legal framework for marijuana sales in the state. Voters approved legalization in November 2016, but legal sales were long delayed by recalcitrant former Gov. Paul LePage (R).
Medical Marijuana
Amendment to Ease Vets' Access to Medical Marijuana Shelved. Rep. Earl Blumenauer (D-OR), sponsor of an amendment to an annual spending bill for Veteran Affairs that would have widened access to medical marijuana for veterans, pulled the amendment in the face of opposition from the VA. On the House floor, Blumenauer explained that the VA "has not been as helpful as it should be" in easing access for vets. "All of a sudden the VA has decided, well, they would be putting their doctors at risk," he said. "I hope that we'll be able to work together to fix this little quirk to make sure that VA doctors can do what doctors everywhere do in states where medical cannabis is legal and be able to work with their patients."
New Hampshire Will Allow Physician Assistants to Recommend Medical Marijuana. Gov. Chris Sununu (R) has signed into law a bill expanding the list of providers who may recommend medical marijuana. A bill that allows medical marijuana users to grow their own plants awaits his signature.
Asset Forfeiture
House Passes Amendment to Block Federal Asset Forfeiture Loophole. The House last Wednesday unanimously approved an amendment to the annual Justice Department funding bill that blocks the department from funding a practice known as adoptive seizure, in which the federal government agrees to take over seizure cases from state and local law enforcement in a bid to get around state asset forfeiture laws. The bipartisan amendment was sponsored by Reps. Jamie Raskin (D-MD) and Tim Wahlberg (R-MI).
Criminal Justice
Pennsylvania Senate Schedules Major Hearing on Probation and Parole Reform. The Senate Judiciary Committee is holding hearings Monday and Tuesday on the state's probation and parole systems. The committee will hear from more than a dozen stakeholders in the probation and parole debate, including county district attorneys, criminal defense lawyers, and advocacy groups like the American Civil Liberties Union, and the Reform Alliance, which is chaired by Philadelphia rapper and probation and parole reform advocate Meek Mill. Representatives from state Department of Corrections, the Office of the Victim Advocate, and the Sentencing Commission will also offer testimony. "It's incredibly important," committee aide Mike Cortez said. "The hearing will be a sounding board to figure out what we can do, what we can't do, and if there are ways we can move bills forward." A recent report found that the state spends about $100 million a year to incarcerate people who committed technical parole infractions and an additional $200 million on people who commit new crimes while on parole or probation.