New Jersey embraces industrial hemp and moves toward passing a marijuana legalization bill, New York's governor says a legalization bill will likely pass there next year, and more.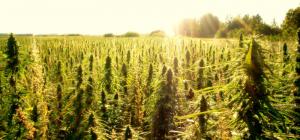 Marijuana Policy
New Jersey Legalization Bill Finally Unveiled. Lawmakers on Wednesday unveiled the latest version of a marijuana legalization bill, S2703. The bill would legalize up to an ounce for adults and set up a system of taxed and regulated marijuana production and distribution. The bill sets a 12% tax rate on marijuana sales, which includes the state's 6.625% sales tax, but also would allow localities to seek up to 2% in additional marijuana taxes.
New York Governor Says Recreational Marijuana Bill Will Pass Sometime in 2019. Gov. Andrew Cuomo (D) said Wednesday that he expects his state to legalize marijuana next year, but he offered few details beyond that. "We now have a working group that is putting together a piece of legislation that would do it, because the devil is in the details: How do you do it, where do you do it, what are the ages, etc.? What is New Jersey doing? What has Massachusetts done?" Cuomo said. "So that legislation is being crafted. I expect it to be introduced next year. The when and the how we're not clear."
Medical Marijuana
Utah Medical Cannabis Act Revised Again. A bill aimed at replacing the voter-approved Prop 2 medical marijuana law has now been revised for a third time as legislators prepare to meet in special session to pass it. The newest version removes renter protections for patients, but increases the number of license for "cannabis pharmacies." Under the bill, a central pharmacy would ship marijuana to local health departments for patients to pick up, or patients could use the "cannabis pharmacies."
Industrial Hemp
New Jersey Governor Signs Industrial Hemp Bill. Gov. Phil Murphy (D) has signed into law S3145, which will establish a pilot program for research and cultivation of hemp. The bill had received nearly unanimous support in the legislature. "This pilot program is a win for local farmers who need a diversity of opportunities to compete in the global agriculture market," said state senator Declan O'Scanlon. "Hemp is growing in value as a cash crop, and I am sure the New Jersey economy, and our farmers will benefit from this pilot program."