Just a day after close to a hundred community activists, reform advocates, and local elected officials took to the streets outside New York City's City Hall Wednesday to demand that Mayor Bill de Blasio (D) move on a long-delayed feasibility study on safe injection sites, the mayor has moved -- and further than they expected.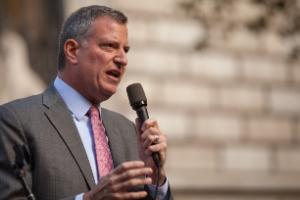 On Thursday evening, the mayor's office announced
de Blasio's support
for a plan to open four of the sites, which the office refers to as Overdose Prevention Centers, a year from now, after a period of consultation with stakeholders.
"After a rigorous review of similar efforts across the world, and after careful consideration of public health and safety expert views, we believe overdose prevention centers will save lives and get more New Yorkers into the treatment they need to beat this deadly addiction," de Blasio said in a statement.
Safe injection sites (SISs) -- or safe injection facilities or supervised injection facilities or supervised consumption sites or overdose prevention centers -- allow drug users to inject (or sometimes inhale) their own drugs under medical supervision. They typically also have a social services component that aims to assist drug users in finding drug treatment and other services.
Operating in around 90 cities in Europe, Australia, and Canada, they are a proven harm reduction intervention. Numerous peer-reviewed scientific studies have shown they reduce public disorder; increase access to treatment, reduce the risk of HIV, Hep C, and bacterial infections; reduce drug overdose deaths; and reduce medical costs thanks to a reduction in disease and overdose, while at the same time increasing access to cost-saving preventive healthcare. What SISs don't do, the studies have found, is increase crime, injection drug use, or the initiation of new drug users.
Yet no such sites operate in the United States. Pushes are underway in several cities, including Philadelphia, San Francisco, and Seattle, but all have faced challenges ranging from moralism and NIMBYism to the fact that they would appear to violate federal law. Just this week, DEA spokesman Melvin Patterson said they violate the Controlled Substances Act and are "subject to being prosecuted." Given the proclivities of the Trump administration, that is probably not a threat to be taken lightly.
Still, the cities are willing to push on the issue, the American Medical Association has endorsed the notion, and legislatures in a number of states are pondering bills to allow them. And now, with the country's largest city coming on board, momentum for the sites is only growing stronger.
In New York City, where the SIF NYC Campaign, a coalition of dozens of community, drug reform, public health, medical, and religious groups has been pressuring the administration to act for months, the mayor's announcement was greeted with relief.
"Mayor de Blasio's embrace of safer consumption spaces is a critical step forward in preventing overdose deaths in New York City. We know that safer consumption spaces are an evidence-based solution that can help dramatically in saving lives, reducing criminalization, and improving public health," said Kassandra Frederique, New York state director at the Drug Policy Alliance. "New York can and must be a leader now in saving lives by opening safer consumption spaces swiftly."
That will take some political acumen in dealing with city district attorneys and the state Health Department, which answers to Gov. Andrew Cuomo, with whom de Blasio's relations are strained at best. It will also take some political fortitude in taking on the Sessions Justice Department and the DEA.
De Blasio's announcement marks the successful culmination of the campaign to bring the city on board with safe injection sites as a harm reduction and overdose prevention measure, but it's just the beginning of the fight to actually get them up and running.