This article was produced in collaboration with AlterNet and first appeared here.
Less than a month ago, AlterNet published 4 Ways Using Even Legal Marijuana Makes You a Second Class Citizen, which enumerated some of the reasons marijuana legalization by itself is not sufficient to guarantee the rights of marijuana users. One of those reasons was the inability of marijuana users to legally own or purchase guns.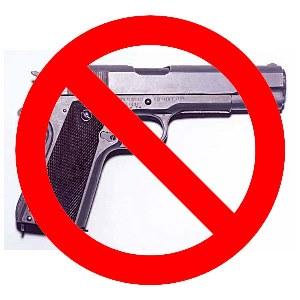 Under federal law, enforced by the Bureau of Alcohol, Tobacco & Firearms (ATF), all gun purchasers must fill out Form 4473. "Are you an unlawful user of, or addicted to, marijuana or any depressant, stimulant, narcotic drug, or any other controlled substance?" the form asks.
Last year, and just to make sure stoners got the message, ATF has added the following language: "Warning: The use or possession of marijuana remains unlawful under Federal law regardless of whether it has been legalized or decriminalized for medicinal or recreational purposes in the state where you reside."
The article noted that marijuana users who want to legally purchase a weapon would have to lie on Form 4473, but that they were unlikely to be caught and prosecuted.
That has changed. The US attorney in Maine has now indicted two men on federal firearms charges for allegedly lying about their marijuana use on the gun purchase form.
Donald Henderson, 33, of Winthrop, was indicted for alleged false statements while buying a pistol from a local gun shop in February 2017 and again while purchasing another pistol the following month. The indictment alleges he checked the box saying he was not a marijuana user when he in fact was.
And Richard Quattrone, 48, of Augusta, was also indicted for lying on a federal firearms license in March 2017. The indictment says he purchased a pistol from the same local gun shop as Henderson and checked the box saying he was not a user of marijuana or controlled substances when he was in fact "an unlawful user of marijuana."
The federal prosecutors in Maine are on firm legal ground -- the law is quite clear -- but the question now becomes whether a political backlash can rein them in. That's what happened when law enforcement officials in some states tried to order registered medical marijuana patients to turn in their guns. In Pennsylvania, the state Health Department is no longer providing the names of patients to law enforcement after newspapers there reported the patients would not be able to buy firearms; in Illinois, regulators removed a rule that would have barred legal gun owners from becoming patients; and in Hawaii, police had to walk back a plan to force patients to hand in their guns.
The Jeff Sessions Justice Department, where ATF resides, is unlikely to be as swayed by angry public opinion as state officials in legal marijuana states, and that suggests that people who use marijuana need to really think twice before filling out that Form 4473. If they tell the truth, they will be barred from purchasing a gun; if they lie, they could be charged with a federal criminal offense and sent to prison.
If you're a marijuana user and really, really want to buy a gun, you may want to stick to gun shows and private purchases, but you are still potentially liable for federal prosecution if you get caught with it and the local US attorney wants to score a coup.
This is one more reason state legalization is only half the battle.