A New Hampshire pot legalization bill gets derailed, the UN Secretary General touts Portugal's drug decriminalization policy, North Dakota takes another step forwared with its nascent medical marijuana program, and more.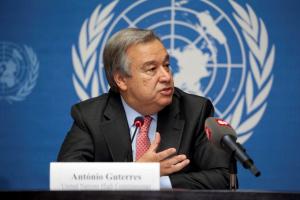 Marijuana Policy
New Hampshire House Committee Nixes Legalization Bill. The House Ways and Means Committee voted Monday to delay any action on a marijuana legalization bill, instead sending House Bill 656 to "interim study." The bill is now effectively dead, but debate on marijuana legalization will continue as a separate commission studies legalization, regulation, and taxation. Its report is due on November 1.
Medical Marijuana
North Dakota Lawmakers Approve Medical Marijuana Rules. The legislature's Administrative Rules Committee signed off Monday on rules for the state's nascent medical marijuana program. While the committee took no formal vote, it also did not call for any changes or delay in implementing the rules. The next step is for the state Health Department to announce an application period for growers and manufacturers, which should happen by the end of next week, according to the department's Medical Marijuana Division.
Oklahoma Medical Marijuana Bill Fails as Initiative Vote Looms. The sponsor of a limited medical marijuana bill, Senate Bill 1120, has held up the measure after it failed to get enough votes to pass. That clears the playing field for the passage of a medical marijuana initiative, State Question 788, which goes before the voters in June.
Virginia Governor Signs CBD Medical Marijuana Expansion Bill into Law. Gov. Ralph Northam (D) last Friday signed into law House Bill 1251, which allows doctors to recommend CBD cannabis oil for any patient they see fit. Previously, state law only allowed the use of CBD for epilepsy. The new law also increases the amount of CBD cannabis oil each patient can buy at a time, from a 30-day supply to a 90-day supply.
International
UN Secretary General Talks Up Portugal's Drug Decriminalization. Addressing the UN Commission on Narcotic Drugs in Vienna, United Nations Secretary General Antonio Guterres touted the success of Portugal's 18-year-old experiment with drug decriminalization, which began when he was Portuguese prime minister. "Current efforts have fallen short of the goal to eliminate the illicit drugs market," said Guterres. "We can promote efforts to stop organized crime while protecting human rights, enabling development and ensuring rights-based treatment and support. I am particularly proud of the results of the reforms I introduced in Portugal when I was prime minister almost 20 years ago."