The UN's global anti-drug day sees anti-drug war rallies in dozens of cities worldwide, the Senate approves letting VA docs recommend medical marijuana for vets, New Hampshire Democrats endorse marijuana legalization, and more.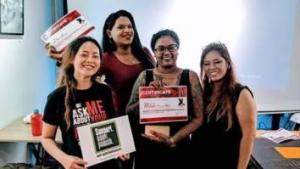 Marijuana Policy
Maine Bill to Put Legalization to New Vote Dies. A bill from marijuana legalization foe Sen. Scott Cyrway (R-Benton) that would put legalization up to another popular vote has died. LD 667 went down on an 18-13 vote.
New Hampshire Democrats Endorse Marijuana Legalization. The state Democratic Party has adopted marijuana legalization as a party platform plank. Party officials approved the measure during the party convention on Saturday. "We believe that marijuana should be legalized, taxed and regulated."
Medical Marijuana
Senate Approves Allowing VA Docs to Recommend Medical Marijuana for Vets. The Senate passed the Veterans Administration FY 2019 appropriations bill on Monday. The bill includes a provision that would allow VA doctors to recommend medical marijuana to their veteran patients. The House Rules Committee blocked that language from being included in the House version of the bill, so now it will be up to a conference committee to decide whether it gets included in the final bill.
Pennsylvania Governor Signs Medical Marijuana Research Bill Into Law. Gov. Tom Wolf (D) last Friday signed into law House Bill 2477, which amends the state's medical marijuana law so that its medical marijuana research program can proceed. The bill moved through the state House and Senate last week before landing on Wolf's desk.
International
It's Global Anti-Drug Day, Activists Rally for End to Drug War at UN. In response to the UNODC's International Day Against Drug Abuse and Illicit Trafficking, drug reform activists gathered Tuesday at Dag Hammarskjöld Plaza, opposite the United Nations Headquarters in New York, to call for global drug policy reform. The campaign is called Support, Don't Punish, and is hosting events in dozens of cities worldwide Tuesday, as well as the UN action.
More Than 150 Organizations Condemn President Trump's Call to Execute People for Nonviolent Drug Offenses. A growing coalition with over 150 organizations as of this writing has condemned President Trump's call to institute the death penalty for drug offenses. A copy of the statement, which was organized by the US-based NGO StoptheDrugWar.org, is online here. The statement was submitted to the UN Office of the High Commissioner on Human Rights, to be considered for inclusion in a report on the death penalty being presented to the General Assembly next fall. David Borden, executive director of StoptheDrugWar.org (publisher of this newsletter) and the statement's author, explained, "We decided to release the statement at this time because of the immigrant family separations and the US's withdrawal from the Human Rights Council, as another example of President Trump's assault on human rights."