The week-old STATES Act picks up a pair of new cosponsors, Mitch McConnell's hemp bill will be debated on Wednesday, Mexican human rights group ask the ICC to investigate drug war crimes by the military, and more.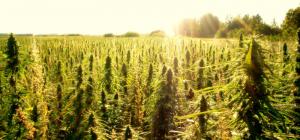 Marijuana Policy
Alaska Senators Sign Up to Back STATES Act. Alaska US senators Dan Sullivan (R) and Lisa Murkowski (R) have added their names as cosponsors of the Strengthening the Tenth Amendment Through Entrusting States Act (STATES Act), which was introduced last week. The bill would make the marijuana prohibition provisions of the Controlled Substances Act inapplicable in states that have their own laws allowing the production, sale, possession, and consumption of marijuana.
Hemp
Federal Bill to Legalize Hemp Up for Debate on Wednesday. Senate Majority Leader Mitch McConnell's (R-KY) Hemp Farming Act of 2018 (S. 2667) will be debated in the Senate on Wednesday. The bill legalizes industrial hemp production and removes hemp from the Controlled Substances Act.
International
Mexican Human Rights Groups Call for International Criminal Court Investigation of Military Drug War Atrocities. Human rights organizations called Monday for the International Criminal Court (ICC) to investigate abuses committed by the Mexican military in a crackdown on drug crime in Chihuahua state. The rights groups provided a dossier to the ICC documenting slayings, torture, rapes, and forced disappearances involving at least 121 victims during a period between 2008 and 2010. This is the third case the human rights groups have asked the ICC to open. Earlier, they presented cases from Coahuila and Baja California, but the ICC has yet to open a preliminary investigation on any of them.
Australia NSW Festival Drug Dog Policy Challenged. A new policy by New South Wales policy that denies entry to music festivals to anyone "indicated on" by a drug dog -- even if a search reveals no drugs -- is being challenged by the NSW Greens. The Greens's Sniff Off campaign sought an injunction last Friday in the NSW Supreme Court to try to block police from carrying out the new practice. The court rejected that effort, saying the issue was "hypothetical," but now, after some festival goers were denied entry this past weekend, the Greens plan to challenge the policy anew.