The president commutes the life sentence of a drug offender, Michigan voters will decide whether to legalize weed in November, the UN's human rights head criticizes Bangladeshi drug war killings, and more.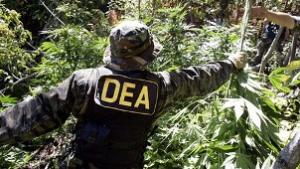 Marijuana Policy
Federal Marijuana Cases Are Way Down. Federal marijuana cases have declined by nearly half (45.8%) since fiscal year 2013, falling 25% between 2015 and 2016, according to a new report from the US Sentencing Commission (USSC). There were 3,854 federal marijuana cases in 2016, the USSC said. But 2016 was still the Obama administration; there are no figures yet on whether federal pot busts went up last year under the Trump administration.
Michigan GOP Punts on Pot Vote, Voters Will Decide at the Polls. Republican lawmakers did not take the opportunity to pass a marijuana legalization initiative by Tuesday night's legislative deadline, even though there had been serious discussion of doing so in a bid to depress voter turnout in November. Now, the measure will go directly to the voters.
Medical Marijuana
Colorado Governor Vetoes Medical Marijuana for Autism, Wants More Study. Gov. John Hickenlooper (D) on Tuesday vetoed House Bill 18-1263, which would have allowed people with autism spectrum disorders to qualify as medical marijuana patients. "While we are very sympathetic with families advocating medical marijuana (MMJ) as a safer and more effective treatment for their children, we cannot ignore such overwhelming concerns from the medical community," Hickenlooper said in the veto letter. He went on to say, "In vetoing this bill, we do so on sole concern that medical efficacy on MMJ to treat ASD has yet to be fully studied by medical professionals and scientific experts entrusted to this role at the Colorado Department of Public Health and Environment (CDPHE)." Hickenlooper then signed an executive order directing CDPHE to study the efficacy of medical marijuana for children with autism.
Florida Judge Halts State's Effort to Block Patients Smoking Their Medicine. A Leon County circuit court judge on Tuesday lifted an automatic stay on her ruling that the state's ban on patient access to the smokable form of medical marijuana is unconstitutional. The state has until Monday to begin moving to make smokable medical marijuana available to patients.
Hemp
US Senate Unanimously Approves Hemp Resolution. For the third year in a row, the Senate has approved a resolution recognizing "the growing economic potential of industrial hemp" as well as its "historical relevance." The resolution is non-binding, but Senate Majority Leader Mitch McConnell (R-KY) is pushing an actual hemp legalization bill this year. He has said he intends to attach it to the larger farm bill expected to soon be taken up by Congress.
Pardons and Commutations
Trump Commutes Life Sentence of Grandma Whose Cause Was Championed By Kim Kardashian. President Trump on Wednesday commuted the life sentence of Alice Marie Johnson, a 63-year-old grandmother who has already served 21 years of a life sentence for a first-time drug trafficking offense. The move came after reality TV star Kim Kardashian met with Trump to plead for Johnson's release.
International
UN Human Rights Head Says Bangladesh Drug War Killings Must Stop UN High Commissioner for Human Rights Zeid Ra'ad Al Hussein on Wednesday condemned the extrajudicial killing of suspected drug offenders and urged Bangladeshi authorities to immediately halt such human rights violations and bring the perpetrators to justice. The death toll has now risen to at least 130 since the government's crackdown began on May 15. "I am gravely concerned that such a large number of people have been killed, and that the Government reaction has been to assure the public that none of these individuals were "innocent" but that mistakes can occur in an anti-narcotics drive,"High Commissioner Zeid said. "Such statements are dangerous and indicative of a total disregard for the rule of law. Every person has the right to life. People do not lose their human rights because they use or sell drugs. The presumption of innocence and the right to due process must be at the forefront of any efforts to tackle crimes." Meanwhile, some 175 non-governmental organizations have signed onto a petition from the International Drug Policy Consortium urging two other UN entities, the UN Office on Drugs and Crime (UNODC) and the International Narcotics Control Board (INCB) to condemn the killings.