A leading Democratic senator scolds the White House on the opioid crisis, the White House rejects drug legalization, the Lebanese consider legalizing marijuana cultivation for medicine, and more.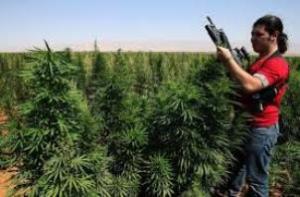 Marijuana Policy
Alaska Marijuana Festival Investigated for Allowing Marijuana Consumption. The Alaska Hempfest held last month allowed attendees who wanted to indulge on-site to smoke marijuana in a tent on the festival grounds, and that now has the festival in hot water with the state Alcohol and Marijuana Control Office. State law and industry regulations prohibit public consumption of marijuana. Festival organizers have been notified that an investigation is underway and that they will likely face a fine of several thousand dollars.
Heroin and Prescription Opioids
Elizabeth Warren Slams Trump on Lame Response to Opioid Crisis. Sen. Elizabeth Warren (D-MA) has ripped into President Trump over his lack of effective responses to the opioid crisis. In a letter released Thursday, Warren wrote: "Experts and observers have concluded that your efforts to address the crisis are 'pathetic' and 'ambiguous promises' that are falling far short of what is needed and not… addressing the epidemic with the urgency it demands. I agree and urge to move quickly to address these problems."
Drug Policy
White House Rejects Drug Legalization. In response to a question about Mexico's incoming president's openness to discussing drug legalization as an alternative to the bloody status quo south of the border, White House press secretary Sarah Huckabee Sanders made clear Wednesday that the Trump administration wasn't interested in anything like that. "I don't have a specific policy announcement on that front," Sanders said at the daily White House press briefing. "However, I can say that we would not support the legalization of all drugs anywhere and certainly wouldn't want to do anything that would allow more drugs to come into this country."
International
Lebanon's Parliament Will Take Up Legalizing Marijuana Cultivation for Medical Purposes. Parliament Speaker Nabih Berri said Wednesday the parliament is considering legalizing marijuana cultivation for medical purposes in a bid to boost the economy. "The Lebanese Parliament is preparing to study and adopt the legislation necessary to legislate the cultivation of cannabis and its manufacture for medical uses in the manner of many European countries and some US states," Berri's office said, reporting on comments made in a meeting with the US ambassador in Beirut.